Details: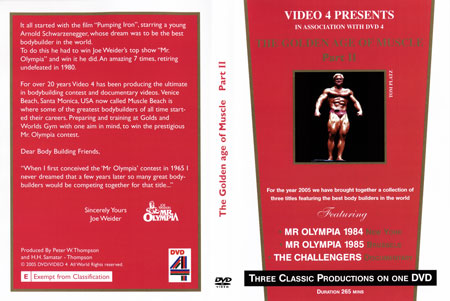 The Golden Age Of Muscle "1984/85 Mr Olympia" plus "The Challengers" Documentary

Mr Olympia 1984 Watch the legendary Lee Haney take his first Mr O, beating the all time greats, Sergio Oliva, Mohamed Makkawy, Tom Platz and more.

Mr Olympia 1985 Lee Haney takes win No. 2 over Gaspari, Christian, Beckles, Padilla, Platz and more. A real champ.

The Challengers Includes the following: Tom Platz training, Rich Gaspari training and posing, Lee Haney, Al Beckles training arms and posing, Bob Paris interview plus training and posing, Frank Richards training and posing. Also appearances by Joe Gold, Pete Grymkowski, Charles Glass training, Mike Christian training and posing, Luiz Freitas training, Rich Martinelli, Teagan Clive, Carla Temple, Janice Regain, Lori Green and Michele Thomas.

This is three complete movies on one massive DVD!

This is an authorized and licensed copy made directly from the broadcast-quality master tape. It does not come with the original video cover information.

It all started with the film "Pumping Iron", starring a young Arnold Schwarzenegger, whose dream was to be the best bodybuilder in the world. To do this he had to win Joe Weider's top show "Mr. Olympia" and win it he did.

An amazing 7 times, retiring undefeated in 1980.
For over 20 years Video 4 has been producing the ultimate in bodybuilding contest and documentary videos. Venice Beach, Santa Monica, USA now called Muscle Beach is where some of the greatest bodybuilders of all time started their careers. Preparing and training at Gold's and World Gym with one aim in mind, to win the prestigious Mr. Olympia contest.

Dear Body Building Friends,
"When I first conceived the 'Mr Olympia' contest in 1965 I never dreamed that a few years later so many great bodybuilders would be competing together for that title..."
Sincerely Yours
Joe Weider

Running time: 265 mins

* Available in NTSC DVD Only (Region Free)
* THIS DVD WILL PLAY ON ANY DUAL SYSTEM NTSC / PAL DVD PLAYER AND TV. Or any PC DVD.