Details: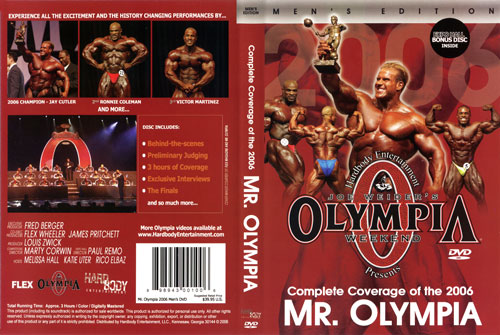 2006 Mr. Olympia DVD 2 disc set

This year there was a huge upset as Jay Cutler dethrones 8-time Mr. Olympia Ronnie Coleman!!

A new Mr. Olympia is crowned and 8-time Mr. Olympia Ronnie Coleman gets 2nd place to the awesome Jay Cutler! Although Ronnie was in great shape the extra 10 pounds of hard muscle put on by Cutler tipped the balance in his favour, Cutler won all four rounds of the show for a historic victory.
Disc 1: Complete coverage of the 2006 Mr Olympia.
Pre-Judging - All Rounds
Finals - Welcome and Introductions
Finals - Top 15 Finalists
Award Presentations
Running time: 179 minutes
Disc 2: Expo Hall - Bonus Disc.
It has no chapters, but contains full Expo footage of the booths, athletes, swimsuit contest, bench press contest, bouts of kick-boxing in the ring, interviews with Pro-BB's, fitness models, MMA fighters, footage of Joe and Ben signing their new book, and loads of other great stuff.
Running time: Over 30 minutes

FAN'S COMMENTS:

"..they are probably the best Mr O DVDs we've ever seen. Excellent camera work, great editing, fantastic athlete interviews."
----------------------------------------------------
Hi, just recv'd my 2006 Mr Olympia DVD today in time for Christmas!!! Great dvd!!!! Would have to be the best Mr Olympia dvd I have seen so far. Picture quality is perfect and the whole dvd is great to watch over and over again thanks!!!
Mr. P. Taylor
----------------------------------------------------
The 2006 Mr. Olympia DVDs are fantastic. The coverage was the best I have seen. The bodybuilders in the Mr. Olympia have the greatest bodies in the world and I really enjoyed the close-ups of the men during their posing routines. I was also glad Jay Cutler won as I have been a fan of his for years.
R.Carlson.

2006 Mr. Olympia Results:

1 Jay Cutler USA
2 Ronnie Coleman USA
3 Victor Martinez Dominican Republic
4 Dexter Jackson USA
5 Melvin Anthony USA
6 Gustavo Badell Puerto Rico
7 Toney Freeman USA
8 Markus Ruhl Germany
9 Dennis James USA
10 Gunter Schlierkamp Germany
11 Vince Taylor USA
12 Branch Warren USA
13 Johnnie Jackson USA
14 Darrem Charles Trinidad
15 Troy Alves USA
16 Francisco 'Paco' Bautista Spain
16 Dennis Wolf Germany
16 Rodney St. Cloud USA
16 Ronny Rockel Germany 160
16 Mustafa Mohammad Austria
16 Bill Wilmore USA
16 David Henry USA

Running time: 210 mins

* Available in NTSC DVD Only (Region Free)
* THIS DVD WILL PLAY ON ANY DUAL SYSTEM NTSC / PAL DVD PLAYER AND TV. Or any PC DVD.