Details: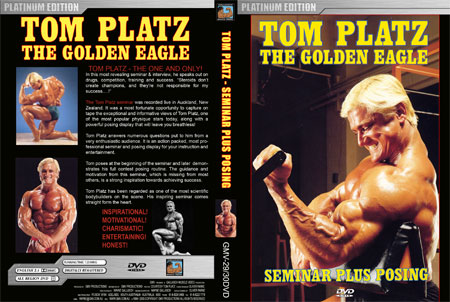 Tom Platz Seminar With Posing - The Golden Eagle - Platinum Edition

TOM PLATZ - the one and only.
In his most revealing seminar and interview he speaks out on drugs, competition, training and success.

In this seminar, recorded live in Auckland, New Zealand, Tom answers numerous questions put to him from a very enthusiastic audience. It is an action packed, most professional seminar and posing display for your instruction and entertainment.

The seminar is offered in 2 parts - with Tom posing in both. Part 1 opens with his posing encore and Part 2 closes with his full posing routine and encore. The guidance and motivation from this seminar, is a strong inspiration towards your achieving success.

Running time: 120 mins

* Available in NTSC DVD Only (Region Free)
* THIS DVD WILL PLAY ON ANY DUAL SYSTEM NTSC / PAL DVD PLAYER AND TV. Or any PC DVD.