Details: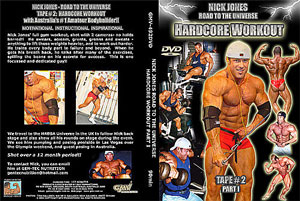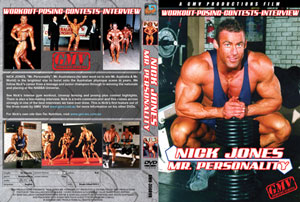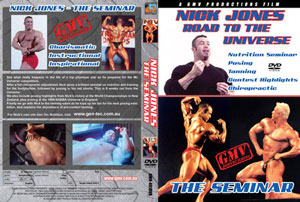 Nick Jones Awesome Foursome DVD Deal!

Nick Jones Road to the Universe: Hard Core Workout - 2 DVD set

with Australia's #1 Amateur Bodybuilder!!

MOTIVATIONAL INSTRUCTIONAL INSPIRATIONAL

Nick Jones' full gym workout - no holds barred!! 150 hardcore, gut-busting minutes.

We followed Nick with our 2 cameras through each of his separate hardcore workouts. Nothing was staged for us as you see the actual weights and reps as used by Nick in the count-down to the Mr. Universe.

This is a unique fly-on-the-wall doco on what it is like at the top level of bodybuilding. He screams, grunts, groans and sweats - anything to lift those weights heavier, and to work out harder. He trains every body part to failure and beyond. When he gets his breath back, he talks after many of the exercises, spilling the beans on his secrets for success. This is one focussed and dedicated guy!!

We travel to the NABBA Universe in the UK to follow Nick back stage, and show all his rounds (including posing routine) on stage during the event. We see him pumping and posing poolside in Las Vegas over the Olympia weekend, and guest posing in Australia.

Shot over a 12 month period!! This is the most extensive and comprehensive workout DVD ever produced by GMV.

Extra scenes from 2 different camera angles, extensive photo gallery.

Nick Jones - Mr Personality - Workout, Posing, Contest & Interview.

NICK JONES, "Mr. Personality", Mr. Australasia (he later went on to win Mr. Australia & Mr. World) is the brightest star to burst onto the Australian physique scene in years. We follow Nick's career from a teenage and junior champion through to winning the nationals and placing at the NABBA Universe.

See Nick's intense gym workout, closeup tensing and posing plus contest highlights. There is also a fascinating interview. Nick is a born communicator and this comes across strongly in one of the best interviews we have ever done. This is Nick's first feature out of the four made by GMV.

Nick Jones: Road to the Universe - The Seminar

* Charismatic
* Instructional
* Inspirational
* Chiropractic
* Nutrition Seminar
* Posing
* Tanning
* Contest Highlights

See what really happens in the life of a top physique star as he prepares for the Mr. Universe competition.

After a full chiropractic adjustment, Nick gives a brilliant seminar on nutrition and training for the bodybuilder, followed by posing in his red shorts. This is 6 weeks out from the Universe.

We also include posing highlights from Nick's victory at the World Championships in New Zealand, plus posing at the 1999 NABBA Universe in England.

Finally we go with Nick to the tanning salon as he tops up his tan for his next posing exhibition, and explains the importance of pre-contest tanning.
Nick has won major titles in many different federations. He is also a bodybuilding judge and MC of National events.




NICK JONES: NATURAL REINVENTION - 2 DISC SET

See how Nick Jones overcame the debilitating effects of Chronic Fatigue Syndrome to reinvent himself as a world class natural bodybuilder. This inspirational DVD sheds light on Nick's battle with the condition, his long path to recovery and his new-found holistic philosophies for training and living in a healthy and sustainable fashion.
In this super 2 DVD set of 4 hours, watch Nick complete his six day workout in the lead up to the 2007 Musclemania contest in Miami, Florida. Nick makes his professional debut after winning the Musclemania Amateur World Championship in 2006 to gain his pro card. The workout is a fly-on-the-wall documentary on exactly how Nick trains. Nothing was staged for the camera.
As well as his complete full body workout, Nick demonstrates his 'warm-up activation' technique, recovery method at the beach, and daily nutrition and supplementation. He also visits his valued chiropractor and delivers dozens of tips on technique and injury prevention throughout the DVD. Also included is Nick competing at and winning the 2006 Musclemania World Championships and his posing routine at the 2007 Musclemania Pro. Witness his amazing final contest condition!
This is a truly comprehensive look at Nick's healthy and sustainable lifestyle and training. This will appeal to the seasoned bodybuilder as well as being educational for the up and coming or training for fitness bodybuilder.

Running time: A Huge 240 mins

INCLUDES PHOTO GALLERY

---------------------------------------------------------------------------------------------

Total Running time for all 4 Discs: 569 mins

* Available in NTSC DVD Only (Region Free)
* THIS DVD WILL PLAY ON ANY DUAL SYSTEM NTSC / PAL DVD PLAYER AND TV. Or any PC DVD.