Details: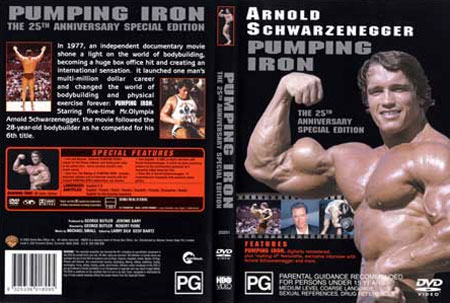 Pumping Iron DVD

Available in NTSC DVD Only (Region One only which is for North America. If you cannot get around this region coding if you have an older DVD player, then do not order this DVD).

The 25th Anniversary special edition of Pumping Iron. On DVD only.
Bonus material exclusive to this 25th Anniversary edition features more than 84 minutes of new, never-before-released programming, including:
** Iron and Beyond - explores Pumping Iron's impact on the fitness industry and Hollywood's idea of the action hero - not to mention Arnold's own movie career.
** Raw Iron: The making of PUMPING IRON - includes exclusive outtakes and an interview reunion with the original PUMPING IRON bodybuilders and director.
** Iron insights - a 2003 in-depth interview with Arnold himself, in which he finally gives surprising answers to the controversial questions he's frequently asked about the film.
** Video bio of Arnold - a comprehensive biography with exclusive photo gallery.
AND OF COURSE - PUMPING IRON itself - digitally re-mastered.
SPECIAL NOTE: This DVD is coded Region 1 NTSC for those in North America. Customers outside of North America please make absolutely sure you can play Region 1 NTSC on your DVD player and television equipment before ordering. Naturally thisDVD will play on all computers fitted with a DVD drive.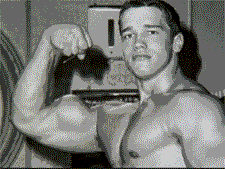 Running Time: 85 mins

* Available in NTSC DVD Only (Region Free)
* THIS DVD WILL PLAY ON ANY DUAL SYSTEM NTSC / PAL DVD PLAYER AND TV. Or any PC DVD.