Details: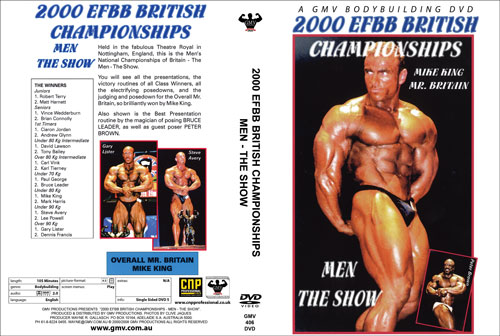 2000 EFBB British Championships: The Men - The Show

Held in the fabulous Theatre Royal in Nottingham, England, this is the Men's National Championships of Britain - The Men - The Show.

You will see all the presentations, the victory routines of all Class Winners, all the electrifying posedowns, and the judging and posedown for the Overall Mr. Britain, so brilliantly won by Mike King.

Also shown is the Best Presentation routine by the magician of posing BRUCE LEADER, as well as guest poser PETER BROWN.

THE WINNERS:

Juniors
1. Robert Terry
2. Matt Harnett

Seniors
1. Vince Wedderburn
2. Brian Connolly

1st Timers
1. Ciaron Jordan
2. Andrew Glynn

Under 80 Kg Intermediate
1. David Lawson
2. Tony Bailey

Over 80 Kg Intermediate
1. Carl Vink
2. Karl Tierney

Under 70 Kg
1. Paul George
2. Bruce Leader

Under 80 Kg
1. Mike King
2. Mark Harris

Under 90 Kg
1. Steve Avery
2. Lee Powell

Over 90 Kg
1. Gary Lister
2. Dennis Francis

OVERALL MR. BRITAIN
MIKE KING

Running time: 105 mins

* Available in NTSC DVD Only (Region Free)
* THIS DVD WILL PLAY ON ANY DUAL SYSTEM NTSC / PAL DVD PLAYER AND TV. Or any PC DVD.