Details: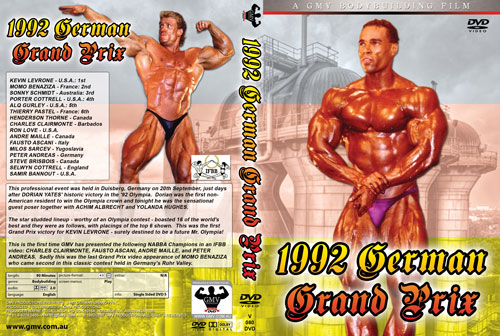 1992 German Grand Prix

This professional event was held in Duisburg, Germany on 20th September, just days after DORIAN YATES' historic victory in the '92 Olympia. Dorian was the first non-American resident to win the Olympia crown and tonight he was the sensational guest poser together with ACHIM ALBRECHT and YOLANDA HUGHES.
The star studded lineup - worthy of an Olympia contest - boasted 16 of the world's best and they were as follows, with placings of the top 6 shown. This was the first Grand Prix victory for KEVIN LEVRONE - surely destined to be a future Mr. Olympia!
This is the first time GMV has presented the following NABBA Champions in an IFBB video: CHARLES CLAIRMONTE, FAUSTO ASCANI, ANDRE MAILLE, and PETER ANDREAS. Sadly this was the last Grand Prix video appearance of MOMO BENAZIZA who came second in this classic contest held in Germany's Ruhr Valley.
KEVIN LEVRONE - U.S.A.: 1st
MOMO BENAZIZA - France: 2nd
SONNY SCHMIDT - Australia: 3rd
PORTER COTTRELL - U.S.A.: 4th
ALQ GURLEY - U.S.A.: 5th
THIERRY PASTEL - France: 6th
HENDERSON THORNE - Canada
CHARLES CLAIRMONTE - Barbados
RON LOVE - U.S.A.
ANDRE MAILLE - Canada
FAUSTO ASCANI - Italy
MILOS SARCEV - Yugoslavia
PETER ANDREAS - Germany
STEVE BRISBOIS - Canada
SELWYN COTTRELL - England
SAMIR BANNOUT - U.S.A.

DVD PACKING
All our DVDs are sent in the plain white padded bags marked as GIFT. Hand addressed and with no PCB logos or stickers on them. We always keep our packaging as low profile as possible to help ensure your privacy.

Running time: 90 mins

* Available in NTSC DVD Only (Region Free)
* THIS DVD WILL PLAY ON ANY DUAL SYSTEM NTSC / PAL DVD PLAYER AND TV. Or any PC DVD.