Details: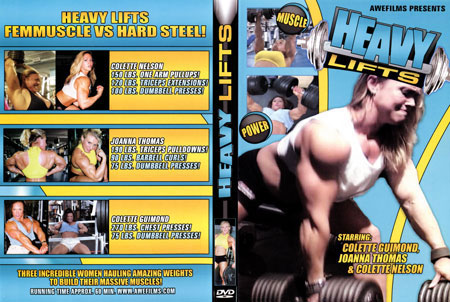 Heavy Lifts - FEMMUSCLE vs HARD STEEL

Three incredible women hauling amazing weights to build their massive muscle!!
Colette Nelson:
150lbs. One Arm Pull-Ups
120lbs. Triceps Extension
100lbs. Dumbell Presses
Colette Guimond:
270lbs. Chest Presses
75lbs. Dumbbell Presses
Joanna Thomas:
190lbs Triceps Pulldowns
75lbs. Dumbbell Presses
90 lbs. Barbell Curls



Running Time: 65 mins

* Available in NTSC DVD Only (Region Free)
* THIS DVD WILL PLAY ON ANY DUAL SYSTEM NTSC / PAL DVD PLAYER AND TV. Or any PC DVD.