Details: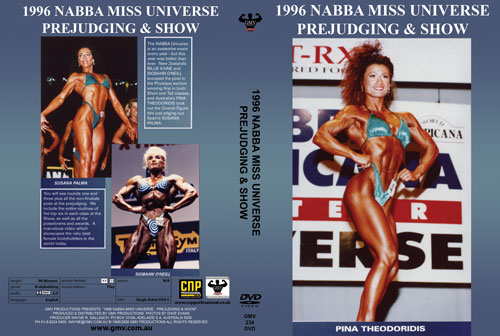 1996 NABBA UNIVERSE: THE WOMEN - PREJUDGING & SHOW
We don't know how they do it, but the NABBA Universe simply gets better year by year.

In the Women's Physique New Zealand scooped the pool winning both classes. Billie Kaine got straight firsts from all the judges for her perfect score, and she also beat her countrywoman Siobahn O'Neill for the overall title.

The Women's Figure was a battle and a half. Pina Theodoridis of Australia (the Southern Hemisphere breeds fabulous women!!) easily won the Short Class from Brigitte Crepieux of France and she also won the Overall from Susana Palma, the Class One winner from Spain. Pina was faultless in all areas and is the greatest Figure bodybuilder ever produced by Australia.
Women's Results:
FIGURE CLASS 2
1 Pina Theodoridis Australia
2 Brigitte Crepieux France
3 Paula McCready UK
4 Lisa Morgan UK
5 Louise Krause South Africa
6 Tina Mirianou Greece

FIGURE CLASS 1
1 Susana Palma Spain
2 Lynn Perrott UK
3 Sonia Fraioli Italy
4 Claudia Muhlhaus Germany
5 Paula Reynolds UK
6 Helga Tieben Holland
OVERALL FIGURE MISS UNIVERSE: Pina Theodoridis Australia
MISS PHYSIQUE CLASS 2
1 Billie Kaine N.Z.
2 Melody Leese USA
3 Cheryl Stewart Australia
4 Sharine Martis Holland
5 Nancy Steensens Belgium
6 Liz Odendaal Holland
7 Denise Richardson USA
8 Svetlana Janoniene Lithuania
MISS PHYSIQUE CLASS 1
1 Siobahn O'Neil N.Z.
2 Ingrid Distler Germany
3 Julia Abell UK
4 Elke Poter Holland
5 Olga Tikhonova Russia
6 Sharon Austin UK
7 Drienke Van Wyk South Africa
OVERALL PHYSIQUE MISS UNIVERSE: Billie Kaine New Zealand

Running time: 90 mins

* Available in NTSC DVD Only (Region Free)
* THIS DVD WILL PLAY ON ANY DUAL SYSTEM NTSC / PAL DVD PLAYER AND TV. Or any PC DVD.