Details: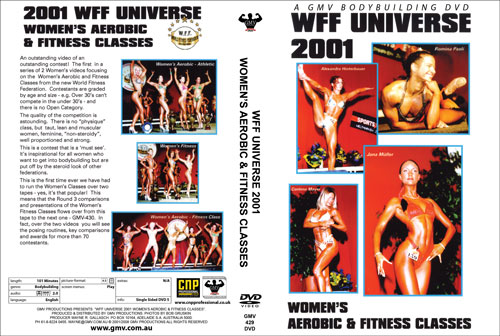 2001 WFF Universe: Women's Tape # 1 - Aerobic & Fitness Classes
An outstanding video of an outstanding contest! The first in a series of 2 Women's videos focusing on the Women's Aerobic and Fitness Classes from the new World Fitness Federation. Contestants are graded by age and size - e.g. Over 30's can't compete in the under 30's - and there is no Open Category.

The quality of the competition is astounding. There is no "physique" class, but taut, lean and muscular women, feminine, "non-steroidy", well proportioned and strong.

This is a contest that is a 'must see'. It's inspirational for all women who want to get into bodybuilding but are put off by the steroid look of other federations.
This is the first time ever we have had to run the Women's Classes over two tapes - yes, it's that popular! This means that the Round 3 comparisons and presentations of the Women's Fitness Classes flows over from this tape to the next one - PCB-430DVD. In fact, over the two videos you will see the posing routines, key comparisons and awards for more than 70 contestants.
From the youngest to the oldest competitor - everyone, without exception, is in awesome condition. This is bodybuilding AT IT'S BEST.

THE WINNERS

Women's Aerobic: Fitness
Skaidite Petrenko - Lithuania

Women's Aerobic: Juniors
Jolanda Mileriute - Lithuania

Women's Aerobic: Athletic
Romina Paoli - Italy

Women's Fitness: Juniors Under 18
Avina Savkina - Lithuania

Women's Fitness: Juniors Under 21
Alexandra Hinterbauer - Austria

Women's Fitness
Jana Müller - Germany

Women's Fitness: Over 30
Corinna Mayer - Germany

Women's Fitness: Over 40
Ingrid Adam - Germany

Running time: 101 mins

* Available in NTSC DVD Only (Region Free)
* THIS DVD WILL PLAY ON ANY DUAL SYSTEM NTSC / PAL DVD PLAYER AND TV. Or any PC DVD.