Details: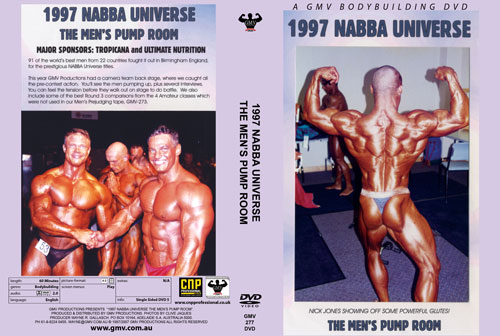 1997 NABBA Universe: The Men's Pump Room
91 of the world's best men from 22 countries fought it out in Birmingham, England, for the prestigious Mr. Universe titles.

This year we had a camera team backstage, where we caught the pre-contest action. You'll see the men pumping up, plus several interviews.
You can feel the tension before they walk out on stage to do battle. We also include some of the best Round 3 comparisons from the 4 amateur classes which were not used in our Men's Prejudging tape click here for PCB-273DVD.
To see all the action in Men The Show, click here for PCB-274DVD.
Pump Room DVD front cover image is NICK JONES, Mr Everything from Adelaide, Australia. Nick has won almost every title available to him from World Champion to Mr Australia to now a top rated Pro Bodybuilder in the MuscleMania contests.

Click here to see Nick in his 2 disc set workout DVD, PCB-492DVD.

1997 NABBA Mr. UNIVERSE RESULTS:
THE MEN
Overall Amateur Mr Universe:
Grant Thomas UK
Professional Mr Universe:
Eddy Ellwood UK
MASTERS
1 John Citrone UK
2 Bernt Prause German
3 Kym Johncock Australia
4 Jean Francois Lacroix France
5 Don Mahoney Australia
6 Aivars Visockis Latvia
7 Patrick Collard UK
8 Graham Lakey UK
9 Earl Maduro Benelux
10 Jan Brink Benelux
Massimo Scafoletti Italy
Henry Caulker Canada
Zvi Soika Israel
Willi Bendel Germany
Vidmantas Malakauskas Lithuania
Wim Looyen Benelux
John Brooks New Zealand

MR CLASS 4
1 Frank Vassil USA
2 Olivier Ripert France
3 Roy Menig Benelux
4 Nick Jones Australia
5 Massimo Travan Italy
6 Ian Lloyd UK
7 Sammy Ayochok Philippines
8 Stevie Wright UK

MR CLASS 3
1 Grant Thomas UK
2 Karlo Sic Germany
3 Steven Creighton UK
4 Graham Black UK
5 Pascal Delhoume France
6 Ramsford Smith UK
7 Derek Saunders UK
8 Jamie Manuel UK
9 Gary Vandenberg Australia
10 Paul House UK
11 Rui Mu Australia
Sergei Dorodnov Russia
Ken Clarke UK
Fabien Gil France
Alex Stuknof Israel
Gregg Leighton USA
Stephen Lloyd UK
Antonio Jose Neto Sousa Spain
Clinton Fleischack South Africa
Peco Kotevski Macedonia

MR CLASS 2
1 Dirk Karrengarn Germany
2 Simon Cohen UK
3 Eric Tilman Benelux
4 Paolo Tamarri Italy
5 Thomas Balinge Benelux
6 Justin Wessels Australia
7 Rene Meier Germany
8 John Verstegen Benelux
9 Eugene Buys Benelux
10 Tony Modral UK
Nove Hadgistojanov Macedonia
Wayne Tancock UK
Pierre Perrieru France
Patrick Coppens Belgium
Graham Madderson UK
Buddy Dreimann USA
Steve Tylee UK
Javier Martinez Izquierdo Spain
Tinus Olckers South Africa
Dominic Schieda Malta
Kostas Spiropoulos Greece
Tony Zerafa Malta
Wayne Bainton South Africa
Vince Wedderburn UK

MR CLASS 1
1 Gary Lister UK
2 Sergey Ogorodnikov Russia
3 Dayo Audi UK
4 Kin Mitchell Benelux
5 Chris Sneddon UK
6 Gary Guinn USA
7 Lee Apperson USA
8 Randy Vogelzang Benelux
Trevor Crouch UK
Pierre van der Westhuizen South Africa
Eric Schembri Malta
Gerhard Pretorius South Africa
Wim Jooren Benelux

PROFESSIONAL
1 Eddy Ellwood UK
2 Peter Reid UK
3 Joe DeAngelis USA
4 Terry Fisher UK
5 Serge Dessel France
6 Marco Falcone Italy
7 Dimitry Kraskovsky Belarus
8 Reimund Tosolini Germany
9 Fabrice Boucher France

Running time: 60 mins

* Available in NTSC DVD Only (Region Free)
* THIS DVD WILL PLAY ON ANY DUAL SYSTEM NTSC / PAL DVD PLAYER AND TV. Or any PC DVD.