Details: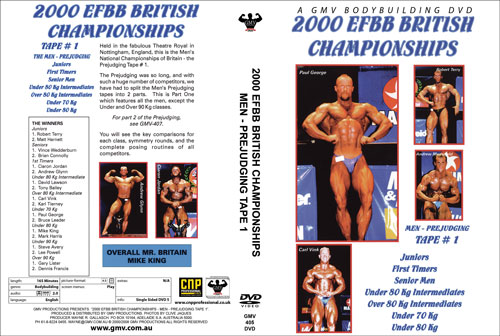 2000 EFBB British Championships: Men's Prejudging - #1

Juniors
First Timers
Senior Men
Under 80 Kg Intermediates
Over 80 Kg Intermediates
Under 70 Kg
Under 80 Kg
Held in the fabulous Theatre Royal in Nottingham, England, this is the Men's National Championships of Britain - the Prejudging Tape # 1.

The Prejudging was so long, and with such a huge number of competitors, we have had to split the Men's Prejudging tapes into 2 parts. This is Part One which features all the men, except the Under and Over 90 Kg classes.

You will see the key comparisons for each class, symmetry rounds, and the complete posing routines of all competitors.

THE WINNERS
Juniors
1. Robert Terry
2. Matt Harnett
Seniors
1. Vince Wedderburn
2. Brian Connolly
1st Timers
1. Ciaron Jordan
2. Andrew Glynn
Under 80 Kg Intermediate
1. David Lawson
2. Tony Bailey
Over 80 Kg Intermediate
1. Carl Vink
2. Karl Tierney
Under 70 Kg
1. Paul George
2. Bruce Leader
Under 80 Kg
1. Mike King
2. Mark Harris
Under 90 Kg
1. Steve Avery
2. Lee Powell
Over 90 Kg
1. Gary Lister
2. Dennis Francis
OVERALL MR. BRITAIN
MIKE KING

Running time: 210 mins

* Available in NTSC DVD Only (Region Free)
* THIS DVD WILL PLAY ON ANY DUAL SYSTEM NTSC / PAL DVD PLAYER AND TV. Or any PC DVD.