Details: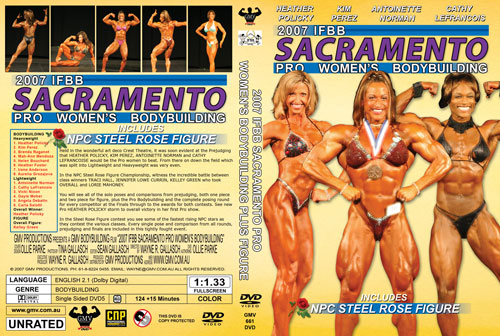 2007 Sacramento Women's Pro Bodybuilding and NPC Steel Rose Figure Championships

Due to Arnold's long connection with bodybuilding and now Sacramento it seemed appropriate for this Northern California Pro Women's Bodybuilding and NPC Figure contest to be staged in Sacramento.
Held in the wonderful art deco Crest Theatre, it was soon evident at the Prejudging that HEATHER POLICKY, KIM PEREZ, ANTOINETTE NORMAN and CATHY LEFRANCOISE would be the Pro women to beat. From there on down the field which was split into Lightweight and Heavyweight was very even.
In the NPC Steel Rose Figure Championship, witness the incredible battle between class winners TRACI HALL, JENNIFER LOWE CURRIN, KELLEY GREEN who took OVERALL and LORIE MAHONEY.
You will see all of the solo poses and comparisons from prejudging, both one piece and two piece for figure, plus the Pro Bodybuilding and the complete posing round for every competitor at the Finals through to the awards for both contests. See new Pro HEATHER POLICKY storm to overall victory in her first Pro show.
In the Steel Rose Figure contest you see some of the fastest rising NPC stars as they contest the various classes. Every single pose and comparison from all rounds, prejudging and finals are included in this tightly fought event.

Extra scenes as follows - from our second camera, side and
closeup: Approximately 15 minutes
Key comparisons
posing routines
Awards
Slo-Mo posing
Photo Gallery
Complete Results:

2007 Sacramento Pro Women's Bodybuilding
Heavyweight
1. Heather Policky - Overall Winner
2. Kim Perez
3. Brenda Raganot
4. Mah-Ann Mendoza
5. Helen Bouchard
6. Heather Foster
7. Irene Anderson
8. Aurelia Grozajova
Lightweight
1. Antoinette Norman
2. Cathy LeFrancoise
3. Vicki Nixon
4. Gayle Moher
5. Angela Debatin
6. Carla Salotti
Class Winners 2007 NPC Steel Rose Figure
Overall Winner: Kelley Green
Class A
1. Traci Hall
2. Akane Nigro
3. Amber Lobao
Class B
1. Jennifer Lowe Currin
2. Charlotta Blalock
3. Teresita Sacchaco
Class C
1. Kelley Green
2. Lucinda Witte
3. Brigette Cornelus
4. Summer Diaz
5. Marcela Trujillo
6. Jen Lauer
Class D
1. Lorie Mahoney
2. Christina Pistotnik
3. Kelly Allison
35+
1. Kelley Green
2. Lucinda Witte
3. Kelly Allison
45+
1. Lorie Mahoney
2. Jennifer Lowe Currin
3. Jeanete Palacios



Running Time: 155 mins

* Available in NTSC DVD Only (Region Free)
* THIS DVD WILL PLAY ON ANY DUAL SYSTEM NTSC / PAL DVD PLAYER AND TV. Or any PC DVD.