Details: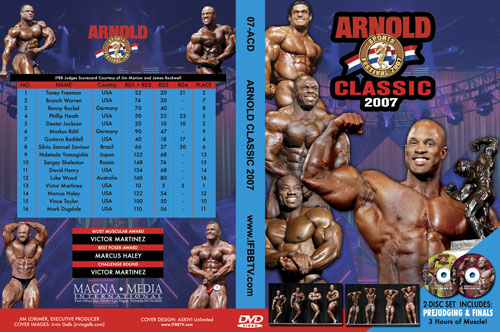 2007 Arnold Classic - 2 disc set - Full Prejudging & Finals

3 HOURS OF PROFESSIONAL MUSCLE ON SHOW!!

For the second year in a row we are proud to offer the complete 2007 Arnold Classic men's DVD as a 2 disc set. You get the prejudging and the complete finals through to the awards. 90 minutes of hard core mind-bending muscle action on EACH disc. See how Victor Martinez was able to surpass Dexter Jackson and Toney Freeman after a titanic battle.

2007 IFBB Arnold Classic Results:

Men

1 Victor Martinez
2 Dexter Jackson
3 Toney Freeman
4 Gustavo Badell
5 Phil Heath
6 Silvio Samuel
7 Branch Warren
8 Ronny Rockel
9 Markus Ruhl
10 Vince Taylor
11 Mark Dugdale
12 Marcus Haley
13 Hidetada Yamagishi
14 David Henry
15 Sergey Shelestov
16 Luke Wood

Running time: 180 mins

* Available in NTSC DVD Only (Region Free)
* THIS DVD WILL PLAY ON ANY DUAL SYSTEM NTSC / PAL DVD PLAYER AND TV. Or any PC DVD.