Details: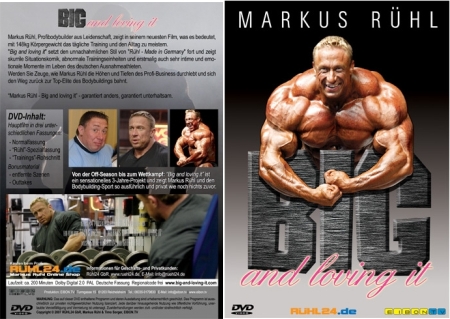 Markus Ruhl - Big and Loving It
NTSC with English/German language.

"Big and loving it" continues in the cinematic style of "Ruhl Made in Germany" and shows the insanely freaky physique, the great sense of humour as well as the very intimate and emotional moments in the life of IFBB Pro Bodybuilder Markus Rühl. Become a witness, as Markus lives through the highs and lows of the professional bodybuilding business, and blasts his way back as an elite athlete at the top of his field in the sport of Pro bodybuilding.
NEWS FROM GERMANY, January, 2008 from the DVD's Producer.
"Good news Sean. The Rühl English NTSC DVD is finished! I am so glad about this. This has been the most complex and difficult project in my life.
I will now send you copies in NTSC by express delivery for your customers who are still waiting, or who have only received the PAL German version. My most sincere apologies for this unavoidable delay. Timo".
Timo, it is an incredible, sensational DVD of quality never ever seen before in bodybuilding documentaries!!! You are a master craftsman at what you do. My hearty congratulations on a great work of art.

This has been worth waiting for. Sean

"Big and Loving It" is completely different from everything else before it. No other bodybuilding production can compare. Never before has a documentary from the professional sport of bodybuilding captured such contrasts between "drama" and "comedy" - high-quality information and the most absurd jokes - all at the same time.
With a production time of over three years, the documentary captures the most intimate portrait ever of a professional physique athlete. It must be seen to appreciate the scope of the project. The DVD contains more than 200 minutes of amazing material, which shows the main film in three different versions: "Normal version" (the version favoured by production), "Rühl special version" (completely uncensored) and the "extended training version".



Running Time: 200 mins

* Available in NTSC DVD Only (Region Free)
* THIS DVD WILL PLAY ON ANY DUAL SYSTEM NTSC / PAL DVD PLAYER AND TV. Or any PC DVD.