Details: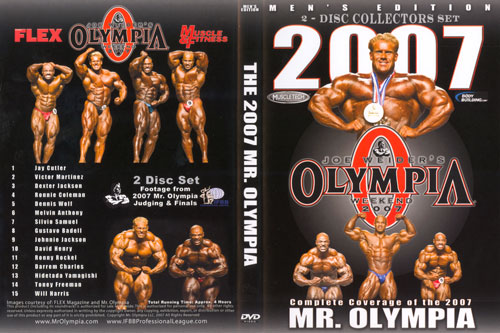 2007 Mr. Olympia Double DVD SET

See a stellar line-up including an ex-champion and an incumbent current champion, plus a host of hungry challengers may make this one of the most exciting Olympia contests in years! Get all the action of both Prejudging and Finals in this tremendous double-DVD set. Qualified athletes from around the world competed for the title MR. OLYMPIA, including new sensations Dennis Wolf from Germany, Victor Martinez (winner of the 2007 Arnold Classic) from the Dominican Republic, and many more.
This was Ronnie Coleman's last Olympia as he announced his retirement. Markus Ruhl also announced his retirement.

SPECIAL NOTE –
Disc #1 is the PREJUDGING and
Disc #2 is the FINALS.

Customer's Testimonial:
The coverage of the 2007 Mr. Olympia is outstanding. The closeups of the men are awesome. With my 50" HD television the bodybuilders look like they are actually right in front of me. I could not have a better seat even if I had attended the contest.
Thanks, Ron Carlson
2007 MR OLYMPIA RESULTS:

1 Jay Cutler USA
2 Victor Martinez Dominican Republic
3 Dexter Jackson USA
4 Ronnie Coleman USA
5 Dennis Wolf Germany
6 Melvin Anthony USA
7 Silvio Samuel Spain
8 Gustavo Badell Puerto Rico
9 Johnnie Jackson USA
10 David Henry USA
11 Ronny Rockel Germany
12 Darrem Charles Trinidad
13 Hidetada Yamagishi Japan
14 Toney Freeman USA
15 Will Harris USA
16 Mark Dugdale USA
16 Sergey Shelestov Russia
16 Quincy Taylor USA
16 Bill Wilmore USA
16 Eddie Abbew United Kingdom
16 Vince Taylor USA
16 Markus Ruhl Germany
16 Francisco Bautista Spain
16 Marcus Haley USA

Running Time: 210 mins

* Available in NTSC DVD Only (Region Free)
* THIS DVD WILL PLAY ON ANY DUAL SYSTEM NTSC / PAL DVD PLAYER AND TV. Or any PC DVD.