Details: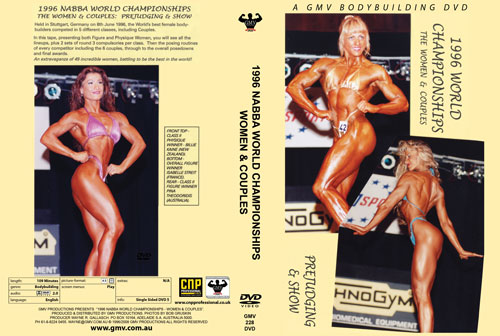 1996 NABBA World Championships: Women & Couples - Prejudging & Show
Held in Stuttgart, Germany on 8th June 1996, the world's best male and female bodybuilders competed for glory. The women competed in five different classes including couples. This is a 109 minutes extravaganza of 49 incredible women, battling for the titles of best in the world!

The women's DVD presents Figure, Physique and Couples, and you will see all the lineups, plus two sets of round 3 compulsories per class. Then the posing routines of every competitor, including the 6 couples, through to the final awards. This was the best women's lineup ever seen at the Worlds, with many countries represented.

New Zealand won their first ever World Bodybuilding title with Billie Kaine victorious in her class. (Pictured upper front cover)
Probably one of the biggest surprises was French Figure Class star Brigitte Crepieux placing only 8th in her class.

The Overall winner for the Women's Physique title was a sensational Cinzia Campeis of Italy. Beautiful blonde Isabelle Streit of France (pictured lower front cover) just edged out Australia's Pina Theodoridis for the overall Women's Figure title. (Pina is pictured rear cover)

The results were as follows:
Figure Class 2:
1 Pina Theodoridis Australia
2 Petra Morlok Germany
3 Chiara Caliari Italy
4 Anke Schwarz Germany
5 Yvonne Kelly Scotland/UK
6 Heike Neubauer Germany

Figure Class 1:
1 Isabelle Streit France
2 Diane Jardim Australia
3 Sonia Fraioli Italy
4 Katharina Karabano Russia
5 Francoise Rivier France
6 Sabine Weeke Germany
Overall Figure Winner: Isabelle Streit (France)

Women's Physique Class 2:
1 Billie Kaine N.Z.
2 Christine Blessing Germany
3 Kirstin Lowe Germany
4 Lysiane Blin France
5 Idalija Kaminskaite Lithuania
6 Marian Van Veen Holland
Women's Physique Class 1:
1 Cinzia Campeis Italy
2 Jane Anderson UK
3 Siobahn O'Neill N.Z.
4 Ingrid Distler Germany
5 Gillian Marusco Australia
6 Lillian Bartels Holland
Overall Women's Physique Winner: Cinzia Campeis (Italy)
Couples
1 Petra Morlok & Klaus Rag Germany
2 Christine Blessing & Arno Johannes Germany
3 Claudia & Mario Rieger Germany
4 Svetlana Janoniene & Vidas Janonis Lithuania
5 Claudia & Stefan Fischer Germany
6 Edita Daubaraite & Andrej Butkevic Lithuania

Running Time: 109 mins

* Available in NTSC DVD Only (Region Free)
* THIS DVD WILL PLAY ON ANY DUAL SYSTEM NTSC / PAL DVD PLAYER AND TV. Or any PC DVD.