Details: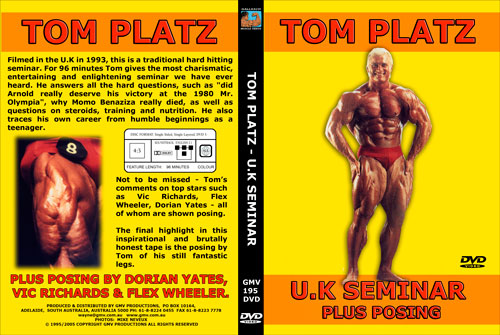 Tom Platz UK Seminar Sept 1993
(Plus Posing of Tom Platz, Dorian Yates, Flex Wheeler)

A bodybuilding star has to be truly outstanding for us to offer 3 separate seminars of him over a ten year period.
Such a star is the Golden Eagle - Tom Platz. Our first seminar was taped with Tom in New Zealand around 1987. The second time was our group of three lifestyle seminar series tapes made by Vaughan Jones in England in 1990. These were not true seminar tapes as GMV presents them, but segments from seminars throughout the UK as the camera followed Tom over the duration of his England tour PCB-283DVD.
This latest tape is a traditional hard hitting seminar. For 96 minutes Tom gave the most charismatic, entertaining and enlightening seminar we have ever heard. He answered all the hard questions, such as "did Arnold really deserve his victory at the 1980 Mr. Olympia", why Momo Benaziza really died, as well as questions on steroids, training and nutrition. He also traced his own career from humble beginnings as a teenager.
Not to be missed - Tom's comments on top stars such as Vic Richards, Flex Wheeler, Dorian Yates - all of whom are shown posing.
The final highlight in this inspirational and brutally honest tape is the posing by Tom of his still fantastic legs.

Running time: 96 mins

* Available in NTSC DVD Only (Region Free)
* THIS DVD WILL PLAY ON ANY DUAL SYSTEM NTSC / PAL DVD PLAYER AND TV.