Details: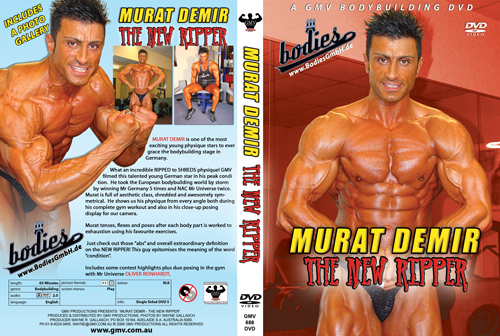 MURAT DEMIR – Mr Universe: THE NEW RIPPER!


MURAT DEMIR is one of the most exciting young physique star in recent years to grace the bodybuilding stage in Germany.
What an incredible RIPPED to SHREDS physique he presents in this DVD! GMV filmed this talented young German star in his peak condition in the former Wilfried Dubbels Gym in Heeslingen. Murat took the European bodybuilding world by storm by winning his class 5 times in Mr Germany and twice in Germany's Mr Universe. Murat Demir has great charisma along with aesthetic class in a Zane like style, shredded and awesomely symmetrical.
During the intense workout he shows us his physique from every conceivable angle both during his training and also in his close-up posing display for our camera after most sets are completed. Murat tenses, flexes and poses each body part for the camera after it is worked to exhaustion. Our star shows you all his favourite exercises including his secret weapon for achieving his amazing "abs".
Just check out those 6-pack "abs" and enjoy the overall extraordinary definition of the NEW RIPPER! This guy epitomises the meaning of the words "superb condition".
Includes some WFF contest highlights plus duo posing in the gym with friend and Mr Universe champion OLIVER REINHARDT. Oliver's DVD "THE POWER" will be also available shortly. Both athletes are sponsored by "BODIES FITNESSBEDARF GmbH"
Photos by Wayne Gallasch.
Includes a Photo Gallery.



Running Time: 75 mins

* Available in NTSC DVD Only (Region Free)
* THIS DVD WILL PLAY ON ANY DUAL SYSTEM NTSC / PAL DVD PLAYER AND TV. Or any PC DVD.