Details: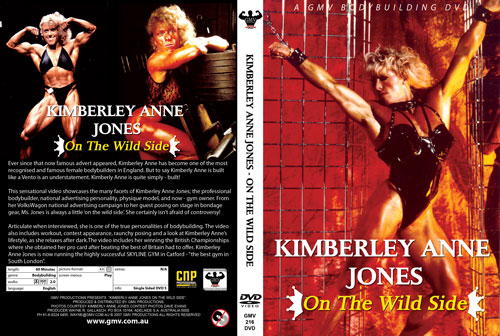 Kimberley Anne Jones: On The Wild Side


Ever since that now famous Vento car advert appeared, Kimberley Anne has become one of the most recognised and famous female bodybuilders in England. To say Kimberly Anne is built like a Vento car is an understatement.

Kimberly Anne is quite simply -" built"!

This sensational DVD showcases the many facets of Kimberley Anne Jones; the professional bodybuilder, national advertising personality, physique model, and now - gym owner. From her Volkswagen national advertising campaign to her guest posing on stage in bondage gear, Ms. Jones is always a little 'on the wild side'. She certainly isn't afraid of controversy!
Articulate when interviewed, she is one of the true personalities of bodybuilding. The DVD also includes workout, contest appearance, raunchy posing and a look at Kimberley Anne's lifestyle as she relaxes after dark.

The video includes her winning the 1992 EFBB British Championships where she obtained her pro card after beating the best that Britain had to offer.
Kimberley Anne Jones is now running the highly successful SKYLINE GYM in Catford - "the best gym in South London".
This is a DVD for all true lovers of hard core women's bodybuilding. If you are into stats, here is some more information on Kimberley Anne, the former Ms Olympia competitor who is synonymous with female bodybuilding in Britain.

Height: 5' 2"
Weight: 12 Stone (168 lbs or 76.4 kilos)
Hair: Blonde
Eyes: Blue
Chest: 36C
Waist: 32"
Biceps: 15"
Legs: 23 ½
Calves: 16 ½
CONTEST HISTORY:
1985 1st place London and Southern counties
1986 1st place lightweights North West Championships
1986 4th place lightweights British Championships
1987 1st place lightweights North West Championships
1987 1st place middleweights British Championships
1988 6th place middleweights World Championships
1988 1st place/overall winner European championships 1990 1st place amateur Night of Champions
1992 1st place heavyweights London and South East Championships
1992 1st place/overall champion British finals
1992 3rd place heavyweight pro/amateur European Grand Prix
1993 Ms Olympia competitor
1994 13th Place European Pro Grand Prix
1994 Retired from competition.

Running time: 60 mins

* Available in NTSC DVD Only (Region Free)
* THIS DVD WILL PLAY ON ANY DUAL SYSTEM NTSC / PAL DVD PLAYER AND TV. Or any PC DVD.