Details: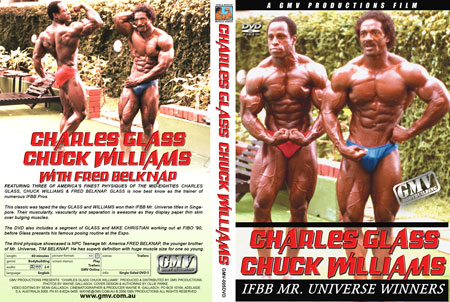 Charles Glass & Chuck Williams plus Fred Belknap - Pumping and Posing.

FEATURING THREE OF AMERICA'S FINEST PHYSIQUES OF THE MID-EIGHTIES: CHARLES GLASS, CHUCK WILLIAMS & FRED BELKNAP.
GLASS is now best know as the trainer of Gunter Schlierkamp and other top IFBB Pros.
This classic was taped poolside in 1983 the day GLASS and WILLIAMS won their IFBB Mr. Universe titles in Singapore. Their muscularity, vascularity and separation are awesome as they display paper thin skin over bulging muscles. This was an intense pumping and posing session, with sweat pouring under the hot and humid conditions.

The DVD also includes a segment of CHARLES GLASS and MIKE CHRISTIAN working out at FIBO '90, before Glass presents his famous posing routine at the Expo.
The third physique showcased is NPC Teenage Mr. America FRED BELKNAP pictured below, the younger brother of Mr. Universe, TIM BELKNAP. He has superb definition with huge muscle size for one so young. This pumping and posing segment was shot in a Los Angeles studio.

Running Time: 65 mins

* Available in NTSC DVD Only (Region Free)
* THIS DVD WILL PLAY ON ANY DUAL SYSTEM NTSC / PAL DVD PLAYER AND TV. Or any PC DVD.