Details: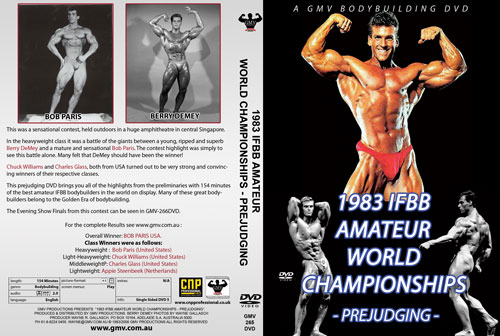 1983 IFBB Amateur World Championships (Mr Universe) - The Prejudging

This was a sensational contest, held outdoors in a huge amphitheatre in central Singapore. I took a group of enthusiastic Adelaide bodybuilding fans to this contest as tour leader. It was an experience of a life time for everyone.

In the heavyweight class it was a battle of the giants between a young, ripped and superb Berry DeMey and a mature and sensational Bob Paris. I do not know how close it was on the judges' sheets but in my mind it was a toss up and could have gone either way. Ralf Moeller was anothet giant, literally and dwarfed the others during the posedown. Christian Janatsch was there with his girlfriend Rachel McLish, Ms Olympia. Rachel guest posed at the evening finals.

Chuck Williams and Charles Glass, both from USA turned out to be very strong and convincing winners of their respective classes as was Appie Steenbeek from Holland and Herman Hoffend from West Germany.

After the contest was over, I approached the 3 USA class winners, Paris, Williams and Glass to arrange video and photo shoots next day at poolside. Sadly Bob Paris declined but Glass and Williams more than made up for it, turning on a sensational display of hard, ripped 100% in condition muscle for my cameras. To see this shoot which is now GAMM-005DVD, please click here.

This prejudging DVD brings you all of the highlights from the preliminaries with 154 minutes of the best amateur bodybuilders in the world on display. Many of these great bodybuilders now belong to the Golden Era of bodybuilding.

To see the Evening Show Finals from this contest, please click here for GAMM-266DVD.

Running time: 189 mins

Complete Results:
1983 IFBB World Amateur Championships - Singapore
Overall Winner: BOB PARIS USA

Heavyweight
1 Bob Paris (United States)
2 Berry DeMey (Netherlands)
3 Ralf Moeller (West Germany)
4 Christian Janatsch (Austria)
5 Karl Kainrath (Austria)
6 Roy Chavez (United Kingdom)
7 Alfred Neugebauer (Austria)
8 Jyrki Savolainen (Australia)
9 Henning Hanse (Denmark)
10 Steve Keesa (Canada)

Light-Heavyweight
1 Chuck Williams (United States)
2 Keijo Reiman (Finland)
3 Ian Dowe (United Kingdom)
4 Ulf Larsson (Sweden)
5 Yasushi Koyama (Japan)
6 Dirk Warnez (Belgium)
7 Graeme Lancefield (Australia)
8 Les Berthelette (Canada)
9 Gunther Kohaut (Germany)
10 Albert Ostermayr (Germany)
11 Angelito Lesta (England)

Middleweight
1 Charles Glass (United States)
2 Erwin Note (Belgium)
3 Erwin Knoller (West Germany)
4 El Shahat Mabrouk (Egypt)
5 Lars Lunde (Norway)
6 Martin Alamango (England)
7 Esteve Alcaide (France)
8 Lourenco Brasil (Brazil)
9 Marc Bolduc (Canada)
10 Glenn Gravenbeek (Netherlands)
11 Michel Dermaux (Belgium)

Lightweight
1 Appie Steenbeek (Netherlands)
2 Michael Piliotis (England)
3 Ali Aldein Abd Alrahman (Egypt)
4 Wilhelm Jasinowski (West Germany)
5 Calvin Nyuli (Canada)
6 Reijo Kivioja (Finland)
7 Antonio Venegas (Netherlands)
8 Park Yung Chul (Korea)
9 Didier Cabrol (France)
10 Jesse Lujan (United States)

Bantamweight
1 Herman Hoffend (West Germany)
2 Antonio Stella (Italy)
3 Alain Leroy (New Caledonia)
4 Fatholomein Ali (Singapore)
5 Katsumi Ishimura (Japan)
6 Sadakatsu China (Japan)
7 Kit Meejom (Indonesia)
8 Greg Dwyer (Australia)
9 Megahed Hassanein (Lebanon)
10 Bachtiar Zarmi (Indonesia)
11 Paul Thill (Luxemburg)
12 Peter Lotriet (France)
13 Song Ye Shieh (Vietnam)

Running Time: 155 mins

* Available in NTSC DVD Only (Region Free)
* THIS DVD WILL PLAY ON ANY DUAL SYSTEM NTSC / PAL DVD PLAYER AND TV. Or any PC DVD.