Details: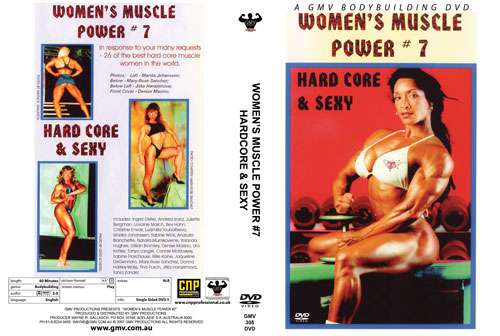 Women's Muscle Power #7 - Hardcore & Sexy

Take a look back in time at 25 of the best hardcore muscle women in the world! These ladies were the muscle superstars of their time.
A number of these women are or have been Olympia competitors!
Ingrid Distler
Andrea Izard
Juliette Bergmann
Lorraine March
Bev Hahn
Christine Envall
Ludmilla Touboltseva
Marika Johanssen
Sabine Wick
Andrulla Blanchette
Natalia Murnikoviene
Yolanda Hughes
Gillian Bromley
Denise Masino
Uta Kohler
Anya Langer
Connie McCloskey
Sabine Froschauer
Billie Kaine
Jaqueline DeGennaro
Mary-Rose Sanchez
Donna Hartley-Wass
Tina Pusch
Jitka Harazimova
Tania Zander

See Mary-Rose Sanchez working out and in an interview. She has massive calves which she pumps and poses for us "Maxine Legroom" style.
Jitka Harazimova, the Czech beauty was said to be the next Cory Everson and future Ms. Olympia winner.

Yolanda Hughes - see her in 1987 in her first guest posing appearance and then posing in 1997 as a mature superstar of women's bodybuilding.



Running Time: 65 mins

* Available in NTSC DVD Only (Region Free)
* THIS DVD WILL PLAY ON ANY DUAL SYSTEM NTSC / PAL DVD PLAYER AND TV. Or any PC DVD.