Details: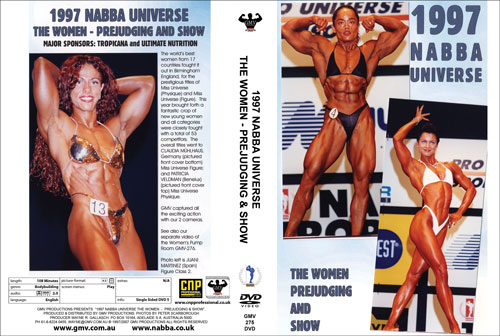 1997 NABBA Universe: The Women - Prejudging & Show

The world's best women from 17 countries fought it out in Birmingham, England, for the prestigious titles of Miss Universe (Physique) and Miss Universe (Figure).

This year brought forth a fantastic crop of new young women and all categories were closely fought with a total of 53 competitors.
GMV captured all the exciting action with our 2 cameras.

This year's overall champions were CLAUDIA MÜLHAUS (Figure) and PATRICIA VELDMAN (Physique).
See the 53 women spread over the 4 classes as follows:

4 MISS PHYSIQUE CLASS 2
11 MISS PHYSIQUE CLASS 1
21 MISS FIGURE CLASS 2
17 MISS FIGURE CLASS 1

1997 NABBA UNIVERSE RESULTS
THE WOMEN





Overall Figure Miss Universe:


Claudia Muhlhaus Germany
Overall Physique Miss Universe:


Patricia Veldman Benelux

MISS PHYSIQUE CLASS 2


1 Patricia Veldman Benelux
2 Christine Envall Australia
3 Judy Lawford UK
4 Ludmila Tuboltseva Russia
MISS PHYSIQUE CLASS 1


1 Ingrid Distler Germany
2 Verena Loffler Germany
3 Anja Timmer Benelux
4 Olga Tikhonova Belarus
5 Gill Feathers UK
6 Denise Lally UK
7 Drienke van Wyk South Africa
Julia Abell UK
Sharon Austin UK
Tereska Browning UK
Sigita Lodaite Lithuania
MISS FIGURE CLASS 2


1 Brigitte Crepieux France
2 Juani Martinez Martinez Spain
3 Lisa Masson New Zealand
4 Terri Roberts Australia
5 Heike Kilb Germany
6 Thomassine Catalano France
7 Maribel Montalvo USA
8 Louise Krause South Africa
9 Petra Morlok Germany
10 Yvonne Kelly UK
Chantelle Smith UK
Giselle Jones Zimbabwe
Inge Babel Germany
Debbie Taylor UK
Tatyana Alexeeva Russia
Meir-Kahana Sigalit Israel
Laura Butler Jamaica
Joanne Klein New Zealand
Vivi Kakatsida Greece
Heather Cowley UK
Viviana Torres Puerto Rico



MISS FIGURE CLASS 1


1 Claudia Muhlhaus Germany
2 Lyn Perrott UK
3 Susana Palma Spain
4 Marina Puchkova Russia
5 Ekaterina Karaban Russia
6 Paula Reynolds UK
7 Trijntje Medema Benelux
8 Helga Tieben Benelux
9 Sabine Weeke Germany
Joanne Davies UK
Eileen Todd UK
Michelle Reid UK
Tracey Abbott UK
Liz Dando Australia
Patty van Dalen Benelux
Susan Fleming New Zealand
Anita van Hof Benelux

Running Time: 108 mins



* Available in NTSC DVD Only (Region Free

)
* THIS DVD WILL PLAY ON ANY DUAL SYSTEM NTSC / PAL DVD PLAYER AND TV. Or any PC DVD.