Details: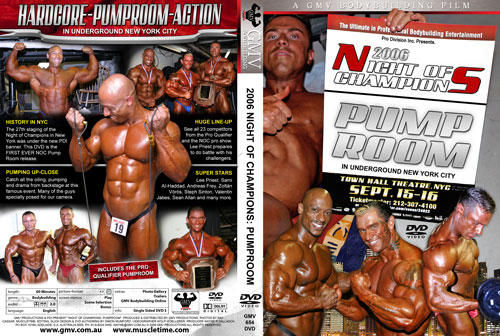 2006 PDI Night of Champions - Pump Room

The 27th staging of the Night of Champions in New York was under the new PDI banner. This DVD is the FIRST EVER NOC Pump Room release on any medium.
See all of the top guys from the Pro Qualifier along with the NOC pro show with its total of 23 competitors.
Watch winner LEE PRIEST as he prepares to do battle with his challengers such as Sami Al-Haddad, Andreas Frey, Steph Sinton and more. Catch all the oiling, pumping and drama from backstage at this famous event. Some of the guys specially posed for our camera. Includes LEE PRIEST posing with his trophy backstage after the event.

Includes a photo gallery - photos by Ray Cassar of Muscletime.

Here is a list of the top guys you will see in this DVD. It is also the order in which they placed in the contest :
1 Lee Priest Australia
2 Andreas Frey Germany
3 Sami Al-Haddad Bahrain, UAE
4 Zoltán Vörös Hungary
5 Steph Sinton UK
6 Valentin Jabes France
7 Sean Allan USA
8 Geoff Hargreaves UK
9 Jason Palafox USA
10 Tom Jimenez USA
11 Eduard Duque Venezuela
12 Per Juhl Sweden
13 Raphael Lapoirie France
14 Danny Rapposelli USA
15 Liam Stewart Rep. Ireland
16 Troy Moore USA
17 Billy Bourne Rep. Ireland
18 Jack 'Rhino' London USA
19 Luis Castillo USA
20 Georgie Maiorano USA
21 Anthony Forgione USA
22 Jim Vest USA
23 Joe Layton USA

Running time: 67 mins

* Available in NTSC DVD Only (Region Free)
* THIS DVD WILL PLAY ON ANY DUAL SYSTEM NTSC / PAL DVD PLAYER AND TV. Or any PC DVD.