Details: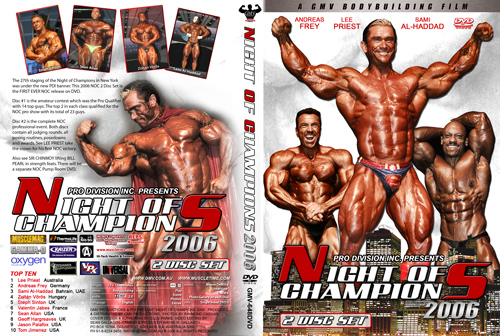 2006 PDI NIGHT OF CHAMPIONS 2 DISC SET

The 27th staging of the Night of Champions in New York was this time staged under Wayne DeMilia's new PDI banner. This 2006 NOC 2 Disc Set is the FIRST EVER NOC release on DVD. In fact this famous event has almost never ever had a video record made for public consumption.

It was held in the Town Hall Theatre on 43rd Street where Arnold Schwarzenegger won his first ever Mr Olympia title in 1970. It was also the home of many early NOC events. As the event flyer said "See the hottest, sexiest best-built men in the world" – "The ultimate in Professional Bodybuilding Entertainment". Those
words pretty well summed up the tone and the feel of the contest. The PDI's stated aim is to put far greater emphasis on entertainment value in their events.
Disc #1 is the complete amateur contest which was the Pro Qualifier with 14 top guys going for their pro cards. The top 2 in each class qualified for the NOC pro show.
This disc includes an interview with Wayne DeMilia, founder of the PDI, plus a photo gallery of the guys in the Pro Qualifier. Running time 72 minutes + extras.
Disc #2 is the complete NOC Professional event. Both discs contain the all judging rounds, all posing routines, posedowns and awards.
The evening finals commenced with the free posing routines of all 23 competitors. Many innovative and entertaining routines were presented, some with amazing props. The use of props was optional and added to the entertainment value which is an important focus of the PDI.
See LEE PRIEST take the crown for his first ever NOC victory. ANDREAS FREY and SAMI AL-HADDAD were worthy runners up.
Also see the famous Guru SRI CHINMOY lifting BILL PEARL in various strength feats. Special awards were made to both men.

This disc contains the photo gallery from the Pro Show. Running time 132 minutes.

TOTAL RUNNING TIME for both discs - 204 minutes of HARDCORE MUSCLE.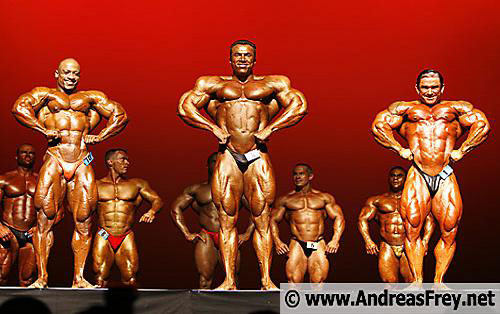 Running Time: 205 mins

* Available in NTSC DVD Only (Region Free)
* THIS DVD WILL PLAY ON ANY DUAL SYSTEM NTSC / PAL DVD PLAYER AND TV. Or any PC DVD.