Details: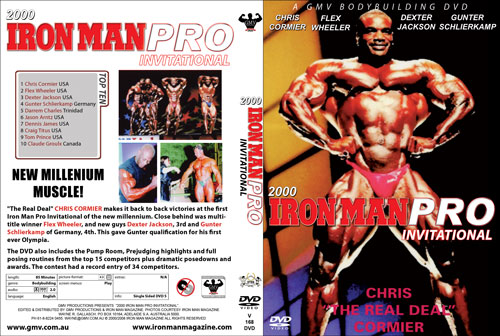 2000 Iron Man Pro Invitational
"The Real Deal" CHRIS CORMIER makes it back to back victories at the first Iron Man Pro Invitational of the new millennium.

Close behind was multi-title winner Flex Wheeler, and new guys Dexter Jackson of USA 3rd and Gunter Schlierkamp of Germany 4th. This gave Gunter qualification for his first ever Olympia.

The video also includes the Pump Room, Prejudging highlights and the full posing routines from the top 15 competitors, plus dramatic posedowns and awards.
Also see guest poser Russ Testo in his new routine.

It was an incredible contest, the largest ever field for an Iron Man Show at 34 competitors, and a great way to start the new century. In this event, no one knew who would win, and in a very close finish, Chris Cormier repeated as the Iron Man Champion, beating out the great 'Flex' Wheeler in a hard fought duel. Dennis Newman's comeback after severe illness was another highlight.
2000 Iron Man Pro Invitational Complete Results
February 19, 2000, Redondo Beach, CA

1 Chris Cormier USA
2 Ken 'Flex' Wheeler USA
3 Dexter Jackson USA
4 Gunter Schlierkamp Germany
5 Darrem Charles Trinidad
*6* Jason Arntz USA
7 Dennis James USA
*8* Craig Titus USA
*9* Tom Prince USA
10 Claude Groulx Canada
*11* J.D. Dawodu England
12 Anthony 'Wolf' Williams Canada
*13* Dennis Newman USA
*14* Johnny Moya USA
15 Charles Kemp USA
16 Dave Fisher Canada
16 Ahmad Haidar Lebanon
*18* Gustavo Badell Puerto Rico
*19* Ed Van Amsterdam Holland
20 Mark Lampard Australia
20 Jocelyn Peletier Canada
*20* Jamo Nezzar England
*20* Craig Licker USA
20 Jostein Oedegaarden Norway
20 Fauzi Hanst Carribean
20 Sylvester Solomon USA
*20* Christian Lobarede Chile
20 Milton Holloway USA
*20* Federico Focherini Italy
*20* Stan McCrary USA
20 Rod Ketchens USA
20 Bob Weatherall Canada
20 Ntuk Ntuk Nigeria
*Withdrew-14* Patrick Lynn USA
Numbers with a *'* around them indicate that these competitors failed a diurectic test, and were disqualified later.

Running time: 85 mins

* Available in NTSC DVD Only (Region Free)
* THIS DVD WILL PLAY ON ANY DUAL SYSTEM NTSC / PAL DVD PLAYER AND TV. Or any PC DVD.