Details: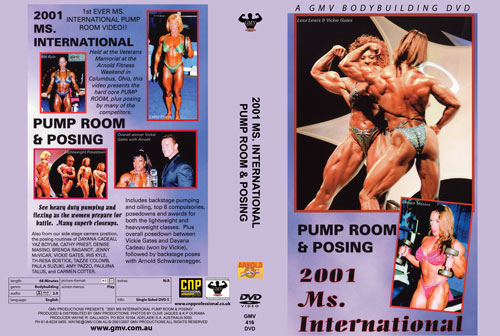 2001 Ms. International: Pump Room & Contest Posing

1st EVER MS. INTERNATIONAL PUMP ROOM & CONTEST POSING DVD!!

Held at the Veterans Memorial at the Arnold Fitness Weekend in Columbus, Ohio, this DVD presents the hard core PUMP ROOM, plus posing by many of the competitors.

Includes backstage pumping and oiling, top 6 compulsories, posedowns and awards for both the lightweight and heavyweight classes. Plus overall posedown between Vickie Gates and Dayana Cadeau (won by Vickie), followed by backstage poses with Arnold Schwarzenegger.

Also from our side stage camera position, the Finals posing routines of DAYANA CADEAU, YAZ BOYUM, CATHY PRIEST, DENISE MASINO, BRENDA RAGANOT, JENNY McVICAR, VICKIE GATES, IRIS KYLE, TH-RESA BOSTICK, TAZZIE COLOMB, PAULA SUZUKI, AMY PAZZO, PAULIINA TALUS, and CARMEN COTTER. We were required to shoot from side stage at the Finals in terms of our taping rights.

See heavy duty pumping and flexing as the women prepare for battle. Many superb closeups.
Overall Winner
1 Vickie Gates USA

Lightweight Class

1 Dayana Cadeau Canada
2 Brenda Raganot USA
3 Angela Debatin Brazil
4 Cathy LeFrancois-Priest Canada
5 Denise Masino USA-Florida
6 Yaz Boyum USA-Washington
7 Jennifer McVicar USA
8 Raejha Savary Canada
9 Peggy Schoolcraft USA
10 Monica Martin Brazil

Heavyweight Class

1 Vickie Gates USA
2 Iris Kyle USA
3 Lesa Lewis USA
4 Yaxeni Oriquen Venezuela
5 Betty Pariso USA
6 Gayle Moher USA
7 Tazzie Colomb USA
8 Amy Pazzo USA
9 Th-resa Bostick USA
10 Paula Suzuki USA
11 Carmen Cotter New Zealand
12 PaulIina Talus Finland



Running time: 68 mins

* Available in NTSC DVD Only (Region Free)
* THIS DVD WILL PLAY ON ANY DUAL SYSTEM NTSC / PAL DVD PLAYER AND TV. Or any PC DVD.