Details: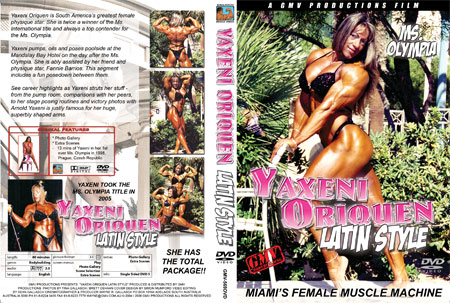 Yaxeni Oriquen - Latin Style - Miami's Female Muscle Machine

Yaxeni Oriquen is South America's greatest female physique star. She is twice a winner of the Ms. International title and always a top contender for the Ms. Olympia.
Yaxeni pumps, oils and poses poolside at the Mandalay Bay Hotel on the day after the Ms. Olympia. She is ably assisted by her friend and physique star, Fannie Barrios. This segment includes a fun posedown between them.
See career highlights as Yaxeni struts her stuff - from the pump room, comparisons with her peers, to her stage posing routines and victory photos with Arnold.Yaxeni is justly famous for her huge, superbly shaped arms. She has the total package!!
Special Features:
13 mins of Yaxeni in her 1st ever Ms. Olympia in 1998, in Prague, Czech Republic - plus superb photo gallery.

Running Time: 80 mins

* Available in NTSC DVD Only (Region Free)
* THIS DVD WILL PLAY ON ANY DUAL SYSTEM NTSC / PAL DVD PLAYER AND TV. Or any PC DVD.