Details: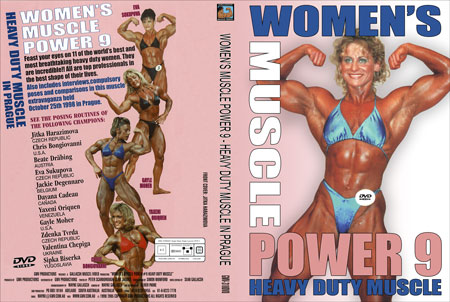 Women's Muscle Power #9 - Heavy Duty Muscle

Many more women compete at the Olympia than those who make the top 6!

These 11 women came in at places 7 through to 17 in Ms. Olympia in Prague '98.

Virtually none of this footage appears in the official 1998 Ms. Olympia video.

Feast your eyes on 11 of the world's best and most breathtaking heavy duty women.

They are incredible!! All are top professionals in the best shape of their lives. See the posing routines of the following champions:

JITKA HARAZIMOVA - Czech Republic (Pictured Below)
CHRIS BONGIOVANNI - U.S.A.
BEATE DRÄBING - Austria
EVA SUKUPOVA - Czech Republic
JACKIE DEGENNARO - Belgium
DAYANA CADEAU - Canada
YAXENI ORIQUEN - Venezuela
GAYLE MOHER - U.S.A.
ZDENKA TVRDA - Czech Republic
VALENTINA CHEPIGA - Ukraine (Pictured Below)
SIPKA BISERKA - Yugoslavia

Also includes interviews, compulsory poses and comparisons in this MsOlympia muscle extravaganza held October 25 1998, in Prague.



Running Time: 75 mins

* Available in NTSC DVD Only (Region Free)
* THIS DVD WILL PLAY ON ANY DUAL SYSTEM NTSC / PAL DVD PLAYER AND TV. Or any PC DVD.