Details: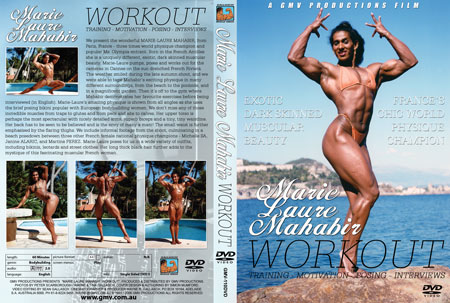 Marie-Laure Mahabir Workout & Posing

"France's Chic World Physique Champion"

We present one of the new stars in the Ms. Olympia scene - MARIE -LAURE MAHABIR, from Paris, France - three times world physique champion and popular Ms. Olympia entrant.

Born in the French Antilles, she is a uniquely different, exotic, dark skinned muscular beauty. Marie-Laure pumps and poses and works out for the GMV cameras in Cannes on the sun drenched French Riviera.

There's an interview (in English), and Marie-Laure's amazing physique is shown from different angles as she wears the g-string bikini so popular with the European bodybuilding women. We don't miss any of those incredible muscles from traps to glutes, and from pecs to abs to calves. We also include informal footage from the shoot culminating in a beach posedown between our three other French national female physique champions - Michele SA, Janine Alaric and Martine Perez. C'est Magnifique!

Marie-Laure poses for our camera in a wide variety of outfits, besides that famous g-string! There's also leotards and street clothes - and her long black hair further adds to the mystique of this fascinating muscular French Woman.



Running Time: 65 mins

* Available in NTSC DVD Only (Region Free)
* THIS DVD WILL PLAY ON ANY DUAL SYSTEM NTSC / PAL DVD PLAYER AND TV. Or any PC DVD.