Details: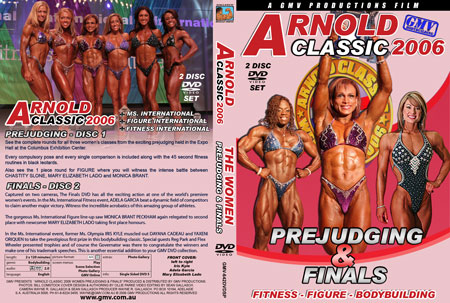 2006 Arnold Classic: The Women - Complete Prejudging and Finals (2 disc set)

Disc 1.

See the complete rounds for all three women's classes from the exciting prejudging held in the Expo Hall at the Columbus Exhibition Center. Every compulsory pose and every single comparison is included along with the fitness routines in black leotards.

Also see the 1 piece round for FIGURE where you will witness the intense battle between CHASTITY SLONE, MARY ELIZABETH LADO and MONICA BRANT. Plus the bodybuilding rounds where it is obvious that Iris Kyle is dominating the field.
Disc 2.

Captured on two cameras, The Finals DVD has all the exciting action at one of the world's premiere women's events. In the Ms. International Fitness event, ADELA GARCIA beat a dynamic field of competitors to claim another major victory. Witness the incredible acrobatics and athleticism of this amazing group of athletes. Unlike at the prejudging, every fitness routine is performed in the athlete's individual outfit of choice.
The gorgeous Ms. International Figure line-up saw MONICA BRANT PECKHAM again relegated to second place with newcomer MARY ELIZABETH LADO taking first place honours. It was a well deserved victory in what was a class of contrasting physique types with the result going to the long lean look of Lado.

In the Ms. International event, former Ms. Olympia IRIS KYLE muscled out DAYANA CADEAU and YAXENI ORIQUEN to take the prestigious first prize in this bodybuilding classic. Special guests Reg Park and Flex Wheeler presented trophies and of course the "Governator" was there to congratulate the winners and make one of his trademark classic speeches. This is another essential addition to your GMV collection of classic female event DVDs.
Photos by Bill Comstock and Tina Gallasch.

2006 Ms. International Results
March 3, 2006 at Columbus, Ohio

1 Iris Kyle, USA
2 Dayana, Cadeau USA
3 Yaxeni Oriquen-Garcia, Venezuela
4 Jitka Harazimova, Czech
5 Betty Pariso, USA
6 Bonny Priest, USA
7 Annie Rivieccio, USA
8 Lisa Aukland, USA
9 Kim Harris, USA
10 Antoinette Norman, USA
11 Mah-Ann Mendoza, USA
12 Rosemary Jennings, USA
13 Christine Roth, Canada
14 Angela Debatin, USA
2006 Fitness International Results
March 3, 2006 at Columbus, Ohio

1 Adela Garcia, USA
2 Kim Klein, USA
3 Jennifer Henderschott, USA
4 Tracey Greenwood, USA
5 Julie Childs, USA
6 Tanji Johnson, USA
7 Julie Palmer, USA
8 Regiane DaSilva, Germany
9 Angie Monteleone-Semsch, USA
10 Stacey Simons, USA
10 Mindi O'Brien, Canada
12 Heidi Fletcher, USA
13 Allison Daughtry, USA
2006 Figure International Results
March 3, 2006 at Columbus, Ohio
Jenny Lynn pulled out on the last day because of illness, bringing a new champion, amid some controversy.
1 Mary Elizabeth Lado, USA
2 Monica Brant-Peckham, USA
3 Amanda Savell, USA
4 Chastity Slone, USA
5 Jane Awad, USA
6 Christine Pomponio-Pate, USA
7 Latisha Wilder, USA
8 Valerie Waugaman, USA
9 Monica Guerra, USA
10 Elaine Goodlad, USA
11 Danielle Hollenshade, USA
12 Gina Camacho, USA
13 Nina Luchka, Canada
14 Deborah Leung, Canada
15 Michelle Flake, USA
16 Tammy Pies, USA
17 Ali Metkovich, USA
18 Anna Larsson, Sweden
18 Zhanna Rotar, USA



Running time: 240 mins

* Available in NTSC DVD Only (Region Free)
* THIS DVD WILL PLAY ON ANY DUAL SYSTEM NTSC / PAL DVD PLAYER AND TV. Or any PC DVD.