Details: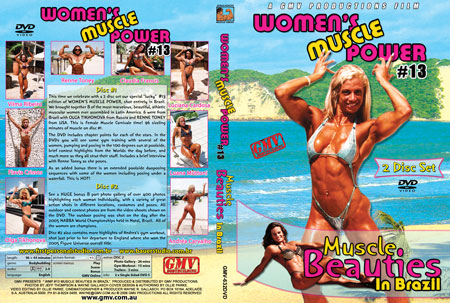 Women's Muscle Power #13 – Muscle Beauties in Brazil
(2 disc set)

Disc #1
This time we celebrate with a 2 disc set which is our special "lucky" #13 edition of WOMEN'S MUSCLE POWER, shot entirely in Brazil. We brought together 8 of the most marvelous, beautiful, athletic muscular women ever assembled in Latin America. 6 were from Brazil with OLGA TIKHONOVA from Russia and RENNE TONEY from USA. This is Female Muscle Carnivale time! 96 sizzling minutes of muscle on disc #1. The DVD includes chapter points for each of the stars. Choose from the menu of short video previews showing your favourite female in action. In the DVDs you will see some gym training with several of the women, plus pumping and posing in the 100 degrees sun at poolside, brief contest highlights from the Worlds the day before, and much more as they all strut their stuff. Includes a brief interview with Renne Toney as she poses.

As an added bonus there is an extended poolside duo posing sequences with some of the women including posing under a waterfall. This is HOT!

RT. 96 mins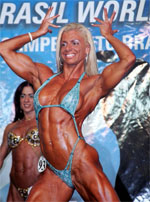 Disc #2

See a HUGE bonus 8 part photo gallery of over 400 photos highlighting each woman individually, with a variety of great action shots in different locations, costumes and poses. All outdoor and contest photos are from the video shoots shown on the DVD. The outdoor posing was shot on the day after the 2005 NABBA World Championships held in Natal, Brazil. All of the women are champions. Both Andrea and Luana are current World and Universe champions while Olga has won 2 World and 2 Universe titles.
Disc #2 also contains more highlights of Andrea's gym workout, shot just prior to her departure to England where she won the 2005 Figure Universe overall title.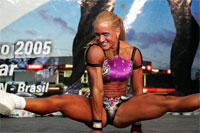 RT. 44 mins
Starring from Brazil -

ANDREA CARVALHO
LOANA MUTTONI
CLAUDIA FRANCIS
FLAVIA CRISSOS
VILMA DE SOUZA
LUCIANA CARDOSA
Plus

OLGA TIKHONOVA
RENNE TONEY



Running Time: 145 mins

* Available in NTSC DVD Only (Region Free)
* THIS DVD WILL PLAY ON ANY DUAL SYSTEM NTSC / PAL DVD PLAYER AND TV. Or any PC DVD.