Details: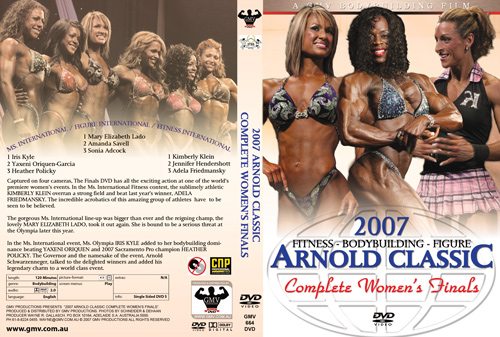 2007 Arnold Classic: The Women - The Finals - Ms. International, Fitness, Figure

Captured on four cameras, The Finals DVD has all the exciting action at one of the world's premiere women's events. In the Fitness International contest, the sublimely athletic KIMBERLY KLEIN overran a strong field and beat last year's winner, ADELA GARCIA. The incredible acrobatics of this amazing group of athletes has to be seen to be believed.

The gorgeous Figure International line-up was bigger than ever and the reigning champ, the lovely MARY ELIZABETH LADO, took it out again. She is bound to be a serious threat at the Olympia later this year.

In the Ms. International event, Ms. Olympia IRIS KYLE added to her women's bodybuilding dominance by beating the in shape YAXENI ORIQUEN and 2007 Sacramento Pro champion HEATHER POLICKY. The Californian Governor and the namesake of the event, Arnold Schwarzenneger, talked to the delighted winners and added his legendary charm to this world class event. Here is how they finshed in all 3 classes.
Women's Bodybuilding
1 Iris Kyle
2 Yaxeni Oriquen-Garcia
3 Heather Policky
4 Lisa Aukland
5 Betty Pariso
6 Dayana Cadeau
7 Annie Rivieccio
8 Bonnie Priest
9 Anntoinette Norman
10 Cathy Lefrancois-Priest
11 Lora Ottenad
12 Denise Masino
13 Kim Perez
14 Colette Nelson
15 Rosemary Jennings
16 Susanne Niederhauser

Figure

1 Mary Elizabeth Lado
2 Amanda Savell
3 Sonia Adcock
4 Latisha Wilder
5 Valerie Waugaman
6 Gina Aliotti
7 Chastity Slone
8 Julie Wallis
9 Christine Wan
10 Inga Neverauskaite
11 Jane Awad
12 Deborah Leung
13 Briana Tindall
14 Corry Mathews
15 Zena Collins

Fitness

1 Kimberly Klein
2 Jennifer Hendershott
3 Adela Friedmansky
4 Tanji Johnson
5 Julie Palmer
6 Tracey Greenwood
7 Julie Childs
8 Debbie Czempinski
9 Holly Stewart
10 Angela Monteleone-Semsch
11 Amy Villa
12 Mindi O'Brien
13 Bethany Gainey
14 Amy Haddad
DNF Heidi Fletcher

Includes a huge photo gallery.



Running time: 118 mins

* Available in NTSC DVD Only (Region Free)
* THIS DVD WILL PLAY ON ANY DUAL SYSTEM NTSC / PAL DVD PLAYER AND TV. Or any PC DVD.