Details: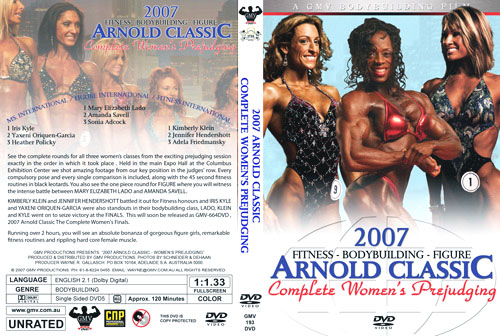 2007 Arnold Classic Complete Women's Prejudging
Ms International, Figure International and Fitness International

See the complete rounds for all three women's classes from the exciting prejudging session exactly in the order in which it took place. Held in the main Expo Hall at the Columbus Exhibition Center we shot amazing footage from our key position in the judges' row. Every compulsory pose and every single comparison is included, along with the 45 second fitness routines in black leotards. You also see the one piece round for FIGURE where you will witness the intense battle between MARY ELIZABETH LADO and AMANDA SAVELL.
KIMBERLY KLEIN and JENNIFER HENDERSHOTT battled it out for Fitness honours and IRIS KYLE and YAXENI ORIQUEN-GARCIA were also standouts in their class, LADO, KLEIN and KYLE went on to seize victory at the FINALS. This will soon be released as GMV-664DVD, 2007 Arnold Classic The Complete Women's Finals.
What makes this DVD so special is that it is shot from our key taping position in the judges' row. Not often do we get up close and personal with the competitors and bring you a bird's eye view, the same as that seen by the judges.
Here is a list of the women you will see in the DVD in the positions in which they placed:
Women's Bodybuilding
1 Iris Kyle
2 Yaxeni Oriquen-Garcia
3 Heather Policky
4 Lisa Aukland
5 Betty Pariso
6 Dayana Cadeau
7 Annie Rivieccio
8 Bonnie Priest
9 Anntoinette Norman
10 Cathy Lefrancois-Priest
11 Lora Ottenad
12 Denise Masino
13 Kim Perez
14 Colette Nelson
15 Rosemary Jennings
16 Susanne Niederhauser

Figure

1 Mary Elizabeth Lado
2 Amanda Savell
3 Sonia Adcock
4 Latisha Wilder
5 Valerie Waugaman
6 Gina Aliotti
7 Chastity Slone
8 Julie Wallis
9 Christine Wan
10 Inga Neverauskaite
11 Jane Awad
12 Deborah Leung
13 Briana Tindall
14 Corry Mathews
15 Zena Collins

Fitness

1 Kimberly Klein
2 Jennifer Hendershott
3 Adela Friedmansky
4 Tanji Johnson
5 Julie Palmer
6 Tracey Greenwood
7 Julie Childs
8 Debbie Czempinski
9 Holly Stewart
10 Angela Monteleone-Semsch
11 Amy Villa
12 Mindi O'Brien
13 Bethany Gainey
14 Amy Haddad
DNF Heidi Fletcher



Running time: 115 mins



" You will see an absolute bonanza of gorgeous figure girls, remarkable fitness routines and rippling hard core female muscle. "
Includes a huge photo gallery.

* Available in NTSC DVD Only (Region Free)
* THIS DVD WILL PLAY ON ANY DUAL SYSTEM NTSC / PAL DVD PLAYER AND TV.