Details: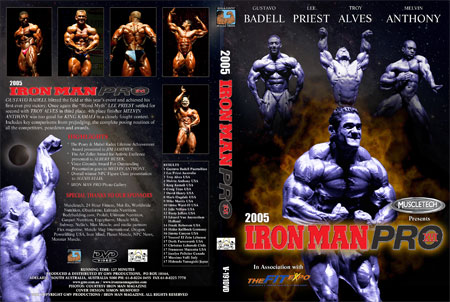 2005 Iron Man Pro

GUSTAVO BADELL blitzed the field at this year's event and achieved his first ever pro victory. Once again the "Blond Myth" LEE PRIEST settled for second with TROY ALVES in third place. 4th place finisher MELVIN ANTHONY was too good for KING KAMALI in a closely fought contest. Includes key comparisons from prejudging, the complete posing routines of all the competitors, posedown and awards.

Special Features:

* The Peary & Mabel Rader Lifetime Achievement
Award presented to JIM LORIMER.

* The Art Zeller Award for Artistic Excellence
presented to ALBERT BUSEK.

* Vince Gironda Award For Outstanding
Presentation goes to MELVIN ANTHONY.

* Overall winner NPC Figure Class presentation
to ALEXIS ELLIS.

* IRON MAN PRO Photo Gallery.



Running time: 127 mins

* Available in NTSC DVD Only (Region Free)
* THIS DVD WILL PLAY ON ANY DUAL SYSTEM NTSC / PAL DVD PLAYER AND TV. Or any PC DVD.

2005 Iron Man Pro and NPC Figure Championship
19th February, Pasadena Civic Auditorium
Place-Name-Country

1 Gustavo Badell Puerto Rico
2 Lee Priest Australia
3 Troy Alves USA
4 Melvin Anthony USA
5 King Kamali USA
6 Craig Titus USA
7 David Henry USA
8 Mark Dugdale USA
9 Mike Morris USA
10 Idrise Ward-El USA
11 Jojo Ntiforo USA
12 Rusty Jeffers USA
13 Eduard Van Amsterdam Holland
14 Frank Roberson USA
15 Heiko Kallbach Germany
16 Jimmy Canyon USA
17 Youssef El Zein Lebanon
17 Derik Farnsworth USA
17 Christian Lobarede Chile
17 Francesco Mazzotta USA
17 Jocelyn Pelletier Canada
17 Massimo Valli Italy
17 Hidetada Yamagishi Japan

Best Posing Award went to Melvin Anthony.

(COMPETITOR REVIEW FROM JO JO NTIFORO)

Hi Sean,
I received the Iron man DVD in the mail today and just finished watching it. I must tell you that you did an awesome job shooting that show and editing of the DVD was excellent. I am very happy with it, and am definitely looking forward to ordering the SF grand prix when it is completed. I will definitely be ordering many more videos/DVDs from you. I am also looking forward to doing some video footage with you later in the year when I diet down again, and you are back in the US. Your website is great and it's amazing the sheer quantity and quality of old and new videos that you have available on there. My training is starting to pick back up and things are OK on my side. I hope you are doing great as well Sean.
Keep up the great work.
Take care, and I will talk to you soon,

JoJo