Details: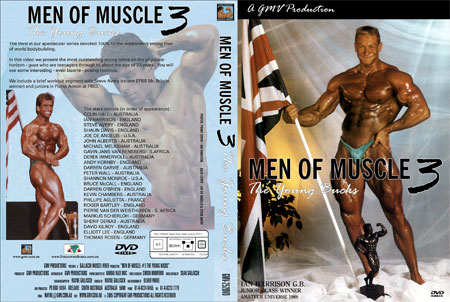 Men Of Muscle # 3: The Young Bucks

The third in our spectacular Men of Muscle series devoted 100% to the outstanding young men of world bodybuilding.

In this video we present the most incredible young talent on the physique horizon - guys who are teenagers through to about the age of 23 years. You will see some interesting, entertaining - even bizarre - posing routines.

The stars include:

Colin Hall - Australia
Ian Harrison - England
Steve Avery - England
Shaun Davis - England
Joe DeAngelis - U.S.A.
John Alberts - Australia
Michael Melksham - Australia
Gavin Jans Van Rensberg - South Africa
Derek Immervoll - Australia
Andy Hornby - England
Darren Garvie - Australia
Peter Wall - Australia
Shannon Monroe - U.S.A.
Bruce McCall - England
Darren O'Brien - England
Kevin Chambers -Australia
Phillipe Aglietta - France
Roger Bartley - England
Pierre Van Der Weisthuisen - South Africa
Markus Schierloh - Germany
Sherif Derias - Australia
David Kilroy - England
Elliot Lee - England
Thomas Rosen - Germany



Running time: 60 mins

* Available in NTSC DVD Only (Region Free)
* THIS DVD WILL PLAY ON ANY DUAL SYSTEM NTSC / PAL DVD PLAYER AND TV. Or any PC DVD.