Details: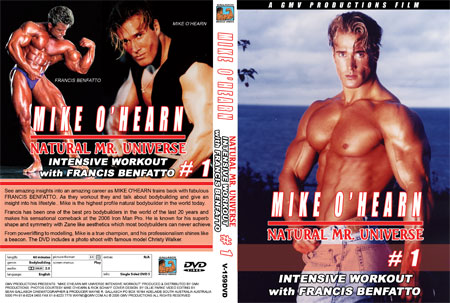 Mike O'Hearn Natural Mr. Universe Intensive Workout # 1 With Francis Benfatto: Working Back & Shoulders
See amazing insights into an amazing career as MIKE O'HEARN trains back with fabulous FRANCIS BENFATTO. As they workout they and talk about bodybuilding and give an insight into his lifestyle.. Mike is the highest profile natural bodybuilder in the world today.
Francis has been one of the best pro bodybuilders in the world of the last 20 years and makes his sensational comeback at the 2006 Iron Man Pro. He is known for his superb shape and symmetry with Zane like aesthetics which most bodybuilders can never achieve.

From powerlifting to modelling, Mike is a true champion, and his professionalism shines like a beacon. The DVD includes a photo shoot with famous model Christy Walker.



Producer's Note:


Mike O'Hearn had this workout filmed in LA and then sent us the camera tapes so that we could edit and produce this video, now available on DVD. This was shot several years ago with older technology and the DVD looks exactly as good as the original camera tapes. At times a slow shutter speed was used to create a special effect. This was not something that we could remove in the authoring process. The DVD is still most enjoyable and a unique record of guys who had little publicy on video at the time.



Running time: 60 mins





* Available in NTSC DVD Only (Region Free

)
* THIS DVD WILL PLAY ON ANY DUAL SYSTEM NTSC / PAL DVD PLAYER AND TV. Or any PC DVD.