Details: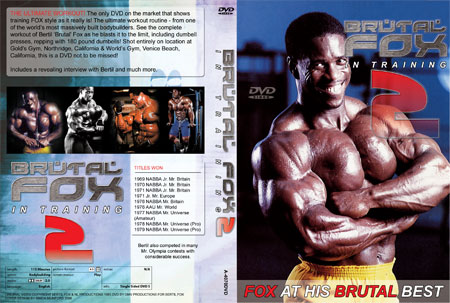 Brutal Fox in Training 2 - Fox at his Brutal Best

THE ULTIMATE WORKOUT! The only DVD on the market that shows training FOX style as it really is! The ultimate workout routine - from one of the world's most massively built body builders. See the complete workout of Bertil 'Brutal' Fox as he blasts it to the limit, including dumbell presses, repping with 180 pound dumbells! Shot entirely on location at Gold's Gym, Northridge, California & World's Gym, Venice Beach, California, this is a DVD not to be missed!

Includes a revealing interview with Bertil and much more.

ABOUT BERTIL FOX

Born: November 9, 1951Height: 5' 10"Weight: 235 lbs

TITLES WON

1969 NABBA Jr. Mr. Britain
1970 NABBA Jr. Mr. Britain
1971 NABBA Jr. Mr. Britain
1971 Jr. Mr. Europe
1976 NABBA Mr. Britain
1976 AAU Mr. World
1977 NABBA Mr. Universe (Amateur)
1978 NABBA Mr. Universe (Pro)
1979 NABBA Mr. Universe (Pro)

On Sept. 27, 2002, Bertil's death sentence was changed to life in prison for the murder of his ex-girlfriend and her mother.

Running time: 115 mins

This DVD is a tribute to the wonderful career of Brutal BERTIL FOX.

* Available in NTSC DVD Only (Region Free)
* THIS DVD WILL PLAY ON ANY DUAL SYSTEM NTSC / PAL DVD PLAYER AND TV. Or any PC DVD.