Details: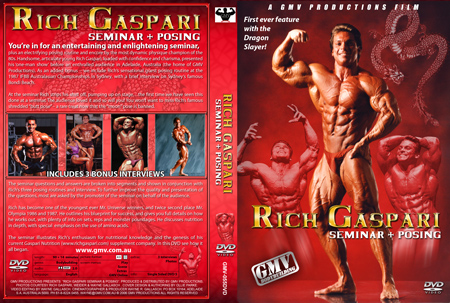 The Rich Gaspari - Seminar and Posing

You're in for an entertaining and enlightening seminar, plus an electrifying posing routine and encore by the most dynamic physique champion of the 80s. Handsome, articulate young Rich Gaspari, loaded with confidence and charisma, presented his 'one-man show' before an enthralled audience.

As an added bonus – we include Rich's sensational guest posing routine at the 1987 IFBB Australasian Championships in Sydney, with a brief interview on Sydney's famous Bondi Beach.
At the seminar Rich strips his shirt off, pumping up on stage…the first time we have seen this done at a seminar. The audience loved it and so will you! You won't want to miss Rich's famous shredded "butt pose" – a rare treat now that the "moon" pose is banned.
The seminar questions and answers are broken into segments and shown in conjunction with Rich's three posing routines and interview. To further improve the quality and presentation of the questions, most are asked by the promoter of the seminar on behalf of the audience.
Rich has become one of the youngest ever Mr. Universe winners, and twice second place Mr. Olympia 1986 and 1987. He outlines his blueprint for success, and gives you full details on how he works out, with plenty of info on sets, reps and monster poundages. He discusses nutrition in depth, with special emphasis on the use of amino acids.
The seminar illustrates Rich's enthusiasm for nutritional knowledge and the genesis of his current Gaspari Nutrition supplement company. In this DVD see how it all began.
Extra Features:
- Rich interviewed and posing at Fibo 1989
- Rich interviewed at the 2001 Olympia
- Rich interviewed at the 2005 Ironman FitExpo
- Photos



Running Time: 100 mins

* Available in NTSC DVD Only (Region Free)
* THIS DVD WILL PLAY ON ANY DUAL SYSTEM NTSC / PAL DVD PLAYER AND TV. Or any PC DVD.