Details: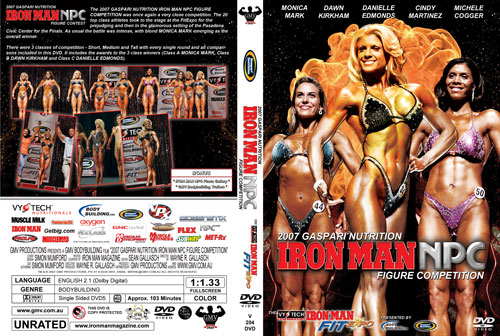 2007 Gaspari Nutrition Iron Man NPC Figure Competition

The 2007 GASPARI NUTRITION IRON MAN NPC FIGURE COMPETITION was once again a fantastic event. 20 top class athletes took to the stage at the FitExpo for the prejudging and then in the glamorous setting of the Pasadena Civic Center for the Finals.

As usual the battle was intense, with blond MONICA MARK emerging as the overall winner. There were 3 classes of competition - Short, Medium and Tall with every single round and all comparisons included in this DVD. It also includes the awards to the 3 class winners and the Peary Rader Lifetime Achievement Award which was accepted on the late Mickey Hargitay's behalf by his wife Ellen.

This event is often the precursor to a very successful pro career for the overall winner. The winner will later be featured on the cover of the Iron Man magazine.

Watch out for the wonderful MONICA MARK in the future!

2007 Iron Man NPC Figure Results:

Short Class (A):
1) Monica Mark
2) Cindy Martinez
3) Debbie Bell
4) Kathryn Payton
5) Sirvan Ergili
6) Ann Treesukosol
Medium Class (B):
1) Dawn Kirkham
2) Michele Cogger
3) Dena Gunnoe
4) Vanessa Van Overmeer
5) Venus Ramos
6) Noreene Castillo
7) Tanya Peale
8) Elizabeth Laub
9) Diva Richards
Tall Class (C):
1) Danielle Edmonds
2) Alecia Rankovic
3) Soumaya Wilmore
4) Hilary Fonseca
5) Allyson Ellenson

Overall Winner: Monica Mark


Running time: 100 mins

* Available in NTSC DVD Only (Region Free)
* THIS DVD WILL PLAY ON ANY DUAL SYSTEM NTSC / PAL DVD PLAYER AND TV.