Details: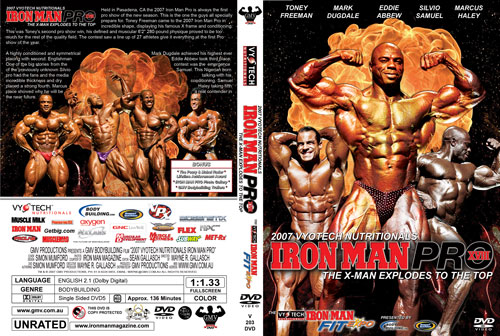 2007 Iron Man Pro DVD

Held in Pasadena, CA the 2007 Iron Man Pro is always the first pro show of the new season. This is the one the guys all specially prepare for.

Toney Freeman came to the 2007 Iron Man Pro in incredible shape, displaying his famous X frame and conditioning. This was Toney's second pro show win, his defined and muscular 6'2" 280-pound physique proved to be too much for the rest of the quality field. The contest saw a line up of 27 athletes give it everything at the first Pro show of the year.

A highly conditioned and symmetrical Mark Dugdale achieved his highest ever placing with second. Englishman Eddie Abbew took third place. One of the big stories from the contest was the emergence of the previously unknown Silvio Samuel. This Nigerian born pro had the fans and the media talking with his incredible thickness and dry conditioning. Samuel placed a strong fourth. Marcus Haley taking fifth place showed why he will be a real contender in the near future.

Video taped with 2 cameras in high quality Digital, this DVD is an absolute must!! Any one of the top five guys has the potential to achieve big things.

HIGHLIGHTS & EXTRA SCENES

* The Peary & Mabel Rader Lifetime Achievement
Award presented to Mickey Hargitay.
* Vince Gironda Award For Outstanding
Presentation goes to Silvio Samuel.
* IRON MAN PRO Photo Gallery.

2007 IFBB Ironman Pro XVIII Results:

1. Toney Freeman
2. Mark Dugdale
3. Eddie Abbew
4. Silvio Samuel
5. Marcus Haley
6. David Henry II
7. Hidetada Yamagishi
8. Ahmad Haidar
9. Omar Deckard
10. Joel Stubbs
11. Kris Dim
12. Rusty Jeffers
13. Roc Shabazz
14. Moe El Moussawi
15. Daniele Seccarecci
16. Sergey Shelestov
17. Eryk Bui
17. Rod Ketchens
17. Martin Kjellstrom
17. Clifton Torres
17. Fabrizio Zittucro
17. Jason Arntz
17. Aiman Faour
17. Francesco Mazzotta
17. Frank McGrath

Vince Gironda Posing Award
Silvio Samuel

Lifetime Achievement Award
Mickey Hargitay

Bodybuilding.com Online Champion
Toney Freeman

Withdrew
Luke Wood

Running time: 136 mins

* Available in NTSC DVD Only (Region Free)
* THIS DVD WILL PLAY ON ANY DUAL SYSTEM NTSC / PAL DVD PLAYER AND TV.