Details: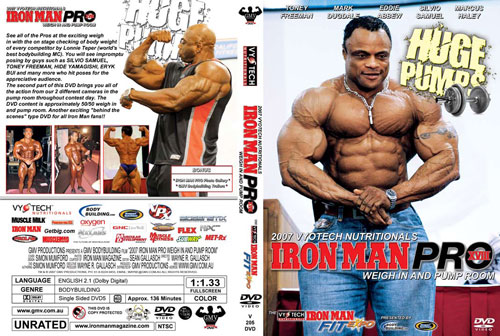 2007 Iron Man Pro - Weigh In and Pump Room

See all of the Pros at the exciting weigh in with the on stage checking of body weight of every competitor by Lonnie Teper (world's best bodybuilding MC).

You will see impromptu posing by guys such as SILVIO SAMUEL, TONEY FREEMAN, HIDE YAMAGISHI, ERYK BUI, JOEL STUBBS and many more who hit poses for the appreciative audience.

The second part of this DVD brings you all of the action from our 2 different cameras in the pump room throughout contest day. The DVD content is approximately 50/50 weigh in and pump room.


Another exciting "behind the scenes" type DVD for all Iron Man fans!!

Every single competitor is shown including Frank McGrath and Luke Wood at the weigh in.

Special Features:

Photo Gallery from the Weigh In

Complete 2007 Iron Man Pro Results:

1. Toney Freeman
2. Mark Dugdale
3. Eddie Abbew
4. Silvio Samuel
5. Marcus Haley
6. David Henry II
7. Hidetada Yamagishi
8. Ahmad Haidar
9. Omar Deckard
10. Joel Stubbs
11. Kris Dim
12. Rusty Jeffers
13. Roc Shabazz
14. Moe El Moussawi
15. Daniele Seccarecci
16. Sergey Shelestov
17. Eryk Bui
17. Rod Ketchens
17. Martin Kjellstrom
17. Clifton Torres
17. Fabrizio Zittucro
17. Jason Arntz
17. Aiman Faour
17. Francesco Mazzotta
17. Frank McGrath



Running Time: 125 mins

* Available in NTSC DVD Only (Region Free)
* THIS DVD WILL PLAY ON ANY DUAL SYSTEM NTSC / PAL DVD PLAYER AND TV. Or any PC DVD.