Details: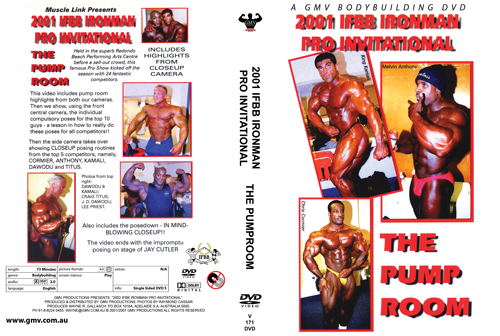 2001 IFBB IRONMAN PRO INVITATIONAL PUMP ROOM

This prestigious event was held in the superb Redondo Beach Performing Arts Centre in front of a sell-out crowd. John Balik's Iron Man Pro Show kicked off the 2001 season with 24 fantastic competitors.
King Kamali said he would come into his first pro contest big and strong, and strong he did, scaring even the toughest around. However in the end, Chris Cormier repeated as champion of the first pro show of the year.

"THE DVD INCLUDES GREAT HIGHLIGHTS FROM OUR CLOSEUP CAMERA!"

We film every Iron Man event with 2 broadcast cameras.

You will see pump room highlights from both our cameras. Then we show, using the front central camera, the individual compulsory poses for the top 10 guys - a lesson for all competitors on how to really do these poses!! This is how the judges get to see and analyse each competitor's strengths and weaknesses.

Next the side stage front camera takes over showing superb CLOSEUP posing routines from the top 5 competitors, namely, CORMIER, ANTHONY, KAMALI, DAWODU and TITUS.

Also includes the final posedown - IN MIND-BLOWING CLOSEUP!!

The DVD ends with the impromptu posing on stage of JAY CUTLER, future Mr Olympia!

Running time: 73 mins

Our thanks to Raymond Cassar of Muscletime for these magnificent photos below which were taken behind the scenes.
2001 Ironman Pro Invitational Results
February 17, 2001 at Redondo Beach, CA
________________________________

1 Chris Cormier USA
2 Melvin Anthony USA
3 Shari 'King' Kamali USA
4 J.D. Dawodu England
5 Craig Titus USA
6 Garrett Downing USA
7 Lee Priest Australia
8 Jason Arntz USA
9 John Sherman USA
10 Rodney St. Cloud USA
11 Charles Kemp USA
12 Marko Savolainen Finland
13 Rudy Soliman Canada
14 Dennis Francis England
15 Christian Lobarede Chile
16 Gustavo Badell Puerto Rico
17 Rod Ketchens USA
17 Hans Hopstaken USA
17 Ken Jones USA
17 Alessandro Komadina Italy
17 Lawrence Marshall Trinidad
17 Ali Malla Lebanon
17 Yohnnie Shambourger USA
17 Jerry Rodgers USA

Withdrew Patrick Lynn USA

* Available in NTSC DVD Only (Region Free)
* THIS DVD WILL PLAY ON ANY DUAL SYSTEM NTSC / PAL DVD PLAYER AND TV. Or any PC DVD.