Details: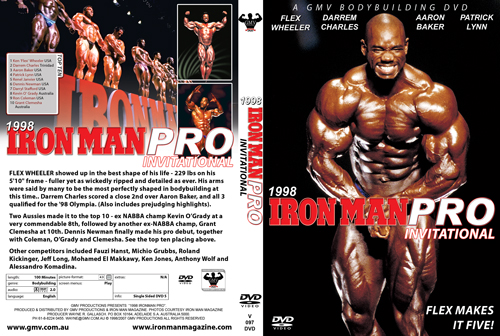 1998 Iron Man Pro Invitational

FLEX WHEELER showed up in the best shape of his life - 229 lbs on his 5'10" frame - fuller yet as wickedly ripped and detailed as ever. His arms were said by many to be the most perfectly shaped in bodybuilding at this time.

Darrem Charles scored a close 2nd over Aaron Baker, and all 3 qualified for the '98 Olympia. (The DVD also includes some prejudging highlights). There is not a lot of video footage on Aaron Baker of huge arms fame, making this DVD one of the best records available on him.

Of special note, two new Aussie Pros made it to the top 10. This was quite a rare achievement and is not likely to be repeated soon! They were both ex NABBA Mr Universe winners.

Kevin O'Grady placed a very commendable 8th, followed by another ex-NABBA champ, Grant Clemesha at 10th. Grant Clemesha is the only Australian to ever win the Overall Amateur NABBA Mr Universe title. That was in 1995.

Another popular star was Dennis Newman who finally made his pro debut, together on debut with Ron Coleman, O'Grady and Clemesha. Note that this was not THE Ronnie Coleman but his name sake!

The Redondo Beach Performing Arts Center was the site for the 1998 IFBB Iron Man Pro Invitational. This was the 9th year for this event, and the 5th year in a row that Ken 'Flex' Wheeler has won this event. The evening show started off with a tribute to Vince Gironda, who died last November, three weeks shy of his 80th birthday. IM publisher John Balik and Vince were close friends, and John was planning an 80th birthday bash for him.
In the audience were notables such as Francis Benfatto, Alq Gurley, Barry Kabov, Paul Dillett, Gunther Schlierkamp, Lee Priest, Shawn Ray (first Iron Man winner), Mike Christian (Iron Warrior), Tony Pearson (former Mr. Universe), Larry Scott (first Mr. Olympia), Kim Chizevsky (reigning Ms. Olympia), Willie Stalling, Stan McCrary (Curly Top), Marvellous Melvin Anthony, Chris Cormier (The Real Deal), Lynn Conkwright (1880 Ms. Olympia 3rd) and many more.

Interesting note is that Greg Kovacs did not show up to the finals, although he was at the prejudging. It was a triumphant and emotional return for Dennis Newman, in his first pro show after winning against the biggest battle of them all, against leukaemia.

Running time: 100 mins

The final results were:

1998 Iron Man Pro Invitational Results.
February 21, 1998 at Redondo Beach, CA.

1 Ken 'Flex' Wheeler USA
2 Darrem Charles Trinidad
3 Aaron Baker USA
4 Patrick Lynn USA
5 Renel Janvier USA
6 Dennis Newman USA
7 Darryl Stafford USA
8 Kevin O' Grady Australia
9 Ron Coleman USA
10 Grant Clemesha Australia
11 Michio Grubbs USA
12 Roland Kickinger Austria
13 Jeffrey Long USA
14 Greg Kovacs Canada
15 Mohamed El Makkawy Egypt
16 Ken Jones USA
17 Alessandro Komadina Italy

DISQUALIFIED
Anthony 'Wolf' Williams USA
Fauzi Hanst Caribbean

* Available in NTSC DVD Only (Region Free)
* THIS DVD WILL PLAY ON ANY DUAL SYSTEM NTSC / PAL DVD PLAYER AND TV. Or any PC DVD.