Details: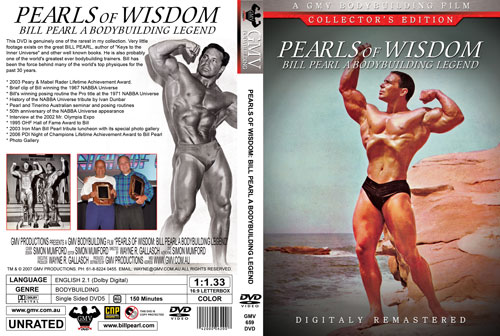 Pearls of Wisdom - Bill Pearl

This DVD is genuinely one of the rarest in my collection. Very little footage exists on the great BILL PEARL, author of "Keys to the Inner Universe" and other well known books. He is also probably one of the world's greatest bodybuilding trainers. Bill has been the force behind many of the world's top physiques for the past 30 years, including the great Chris Dickerson, Mr. Olympia 1982.
BILL PEARL is assisted in the seminar in Australia by his long time friend DENNIS TINERINO. Their Pearls of Wisdom cover such subjects as diet advice, nutrition versus drugs, training philosophy for bodybuilders and athletes, bodybuilding politics, contest preparation, sleep, pain barriers, injuries and much more. Any serious bodybuilder will be fascinated by the information given jointly by BILL and DENNIS in this master class seminar.
It was shot only a few days after Dennis won the IFBB Professional Mr. Universe title in Sydney, Australia. He maintained his magnificent condition for the seminar as you will see during his flawless posing routine. BILL also presents his unique posing display in Australia with all his famous poses, making this DVD a true collectors' item.
There is much more to this DVD than the seminar as it is a celebration of the life of Bill Pearl in Bodybuilding.
Here is a brief summary of the main contents:

* 2003 Peary & Mabel Rader Lifetime Achievement Award from Iron Man Magazine
* Brief clip of Bill winning the 1967 NABBA Universe
* Bill's posing routine and winning the Pro title at the 1971 NABBA Universe
* History of the NABBA Universe tribute by Ivan Dunbar
* Pearl and Tinerino Australian seminar and posing routines
* 50th anniversary of the NABBA Universe appearance and speech by Bill
* Interview at the 2002 Mr. Olympia Expo
* 1995 OHF Hall of Fame Award to Bill
* 2003 Iron Man Bill Pearl tribute luncheon with its special photo gallery
* 2006 PDI Night of Champions Lifetime Achievement Award to Bill Pearl
* Photo Gallery


Running Time: 150 mins

* Available in NTSC DVD Only (Region Free)
* THIS DVD WILL PLAY ON ANY DUAL SYSTEM NTSC / PAL DVD PLAYER AND TV. Or any PC DVD.