Details: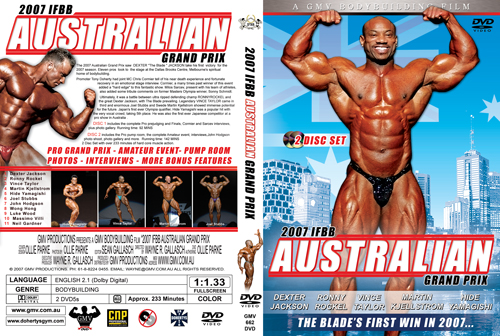 2007 Australian Grand Prix DVD - 2 disc set

2-disc set!! 233 minutes of hard-core muscle action!!
The 2007 Australian Grand Prix saw DEXTER "The Blade " JACKSON take his first victory for the 2007 season. Eleven pros took to the stage at the Dallas Brooks Centre, Melbourne's spiritual home of bodybuilding.

Promoter Tony Doherty had joint MC Chris Cormier tell of his near death experience and fortunate recovery in an emotional stage interview. Cormier, a many times past winner of this event added a "hard edge" to this fantastic show. Milos Sarcev, present with his team of athletes, also added some tribute comments on former Masters Olympia winner, Sonny Schmidt.

Ultimately, it was a battle between ultra ripped defending champ RONNYROCKEL and the great Dexter Jackson, with The Blade prevailing. Legendary VINCE TAYLOR came in third and enormous Joel Stubbs and Swede Martin Kjellstrom showed immense
potential for the future. Japan's first ever Olympia qualifier, Hide Yamagishi was a popular hit with the very vocal crowd, taking 5th place. He was also the first ever Japanese competitor at a pro show in Australia.


2007 Australian Grand Prix Results:
Name/Place

1 Dexter Jackson
2 Ronny Rockel
3 Vince Taylor
4 Martin Kjellstrom
5 Hide Yamagishi
6 Joel Stubbs
7 John Hodgson
8 Wong Hong
9 Luke Wood
10 Massimo Villi
11 Neil Gardner

2007 NPFC-IFBB ALL STATES AUSTRALIA - RESULTS, held at the 2007 Australian Grand Prix event.

WOMEN'S BODYBUILDING
Sandra Lee Jose
Janet Kane
Kerry Dyall
MASTERS
Lou Vecchio
Jim Vouzas
MEN'S NOVICE
Eric Gatt
James Follacchio
Martin Sifredi
MEN'S UNDER 80KG
Fabiano Tomini Foresti
MEN'S OVER 80KG
Lock Maxwell-Wright
Fabrice Marchand
Danny McQuinn
Jordan Brown
Alastair White
Chris Duffy

DISC 1 includes:
The complete Pro prejudging and Finals, Cormier and Sarcev interviews, plus photo gallery.

Running time: 92 mins

DISC 2 includes:
The Pro Pump Room: 62 minutes
Complete Amateur Event: 55 minutes
John Hodgson gym photo shoot: 15 minutes
Side stage at prejudging: 9 minutes
Interviews
Photo gallery - Over 150 photos of the pros

Running time: 141 minutes
2 Disc Set with over 233 minutes of hard core muscle action.


* Available in NTSC DVD Only (Region Free

)
* THIS DVD WILL PLAY ON ANY DUAL SYSTEM NTSC / PAL DVD PLAYER AND TV.