Details: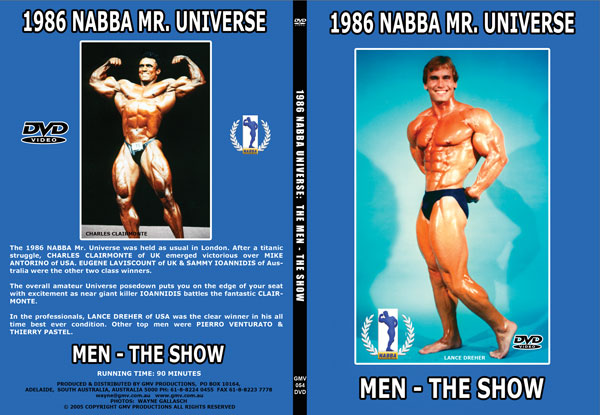 1986 NABBA Mr Universe - Men The Show

The 1986 NABBA Mr. Universe was held as usual in Wembley, London. After a titanic struggle, CHARLES CLAIRMONTE of UK emerged victorious over MIKE ANTORINO of USA. EUGENE LAVISCOUNT of UK & SAMMY IOANNIDIS of Australia were the other two class winners.

The overall amateur Universe posedown puts you on the edge of your seat with excitement as near giant killer IOANNIDIS battles the fantastic CLAIRMONTE. In the professionals, LANCE DREHER of USA was the clear winner in his all time best ever condition.

Other top men were PIERRO VENTURATO & THIERRY PASTEL.

Sensational newcomers included Mike Antorino, Steven Strunk and Victor Terra from U.S.A. and from Europe, Piero Venturato, Thierry Pastel, Peter Bosch and Norbert Huellen. Other stars included Larry Bernstein - USA, Ramsford Smith, Terry Phillips, Edwin Roessler, Eugene Laviscount, Peter Andreas, Patrice Linguet, Ronald Matz, Owen Neil, Andre Maille, Basil Francis, (1987 NABBA Mr Britain), Vince Brown, Rufus Howard, Bill Richardson, Roy Duval and Mike "Zipper" Sable - USA.

In the Junior Class it was a ripped and sensational ANDY HORNBY taking the title with straight firsts from also very impressive ROGER BARTLEY with straight seconds. DAVID KILROY came an impressive 3rd.

The Junior Class is ONLY included in the Prejudging DVD and the Junior class is NOT included in the Men - The Show DVD due to running time constraints when this Men's Show master tape was originally edited.

Amateur Overall Winner: Charles Clairmonte.

Men's Results:

Men's Class 1 - Tall
1 Charles Clairmonte
2 Michael Antorino
3 Ronald Matz
4 Owen Neil
5 André Maille
6 Basil Francis
7 Linkie Wilson
8 Gary Lewer
NP: Tim Bell
Frank McCormack
Midrag Prijefic
Jeff Monson
Ettore Azzarone
Alberto furno
Njue Jackson
Spiros Bournazos
Andrew Webb
Marc Van Kugh

Men's Class 2 - Medium
1 Eugene Laviscount
2 Peter Andreas
3 Steven Strunk
4 Norbert Hullen
5 Peter Bosch
6 Patrice Linguet
7 Billy Knight
8 Daniel Moyson
NP: Misdrag Prijevic
Harald Rompler
Roibert Curlet
Claudio Sinapi
Peter Reid
Francois Lily
Carlos Alonsa
Heinz Scharmann
Charles Thomes
Larry Howard
Vince D'Allesandro
Nusret Custevic
Edwin Phradion

Men's Class 3 -Short
1 Sammy Ioannidis
2 Larry Bernstein
3 Victor Terra
4 Terry Phillips
5 Edwin Roessler
6 Ramsford Smith
7. Adrian Stones
8. John Wiggins
NP: William Lambert
Giovanni Fossella
Francisco Batis
Paul Patterson
Edmondo Lancia
Miguel Barello
Alberto Amato

Junior
1 Andy Hornby
2 Roger Bartley
3 David Kilroy
4 Daren O'Brien
5 Clint Dye

1986 Universe - Pro - NABBA
1 Lance Dreher
2 Pierro Venturato
3 Vince Brown
4 Thierry Pastel
5 Rufus Howard
6 Bill Richardson
7 Roy Duval
8 Mike Sable
NP: Ian Lawrence
Walter O'Malley
Bill Hemsworth

Running Time: 95 mins

* Available in NTSC DVD Only (Region Free)
* THIS DVD WILL PLAY ON ANY DUAL SYSTEM NTSC / PAL DVD PLAYER AND TV. Or any PC DVD.