Details: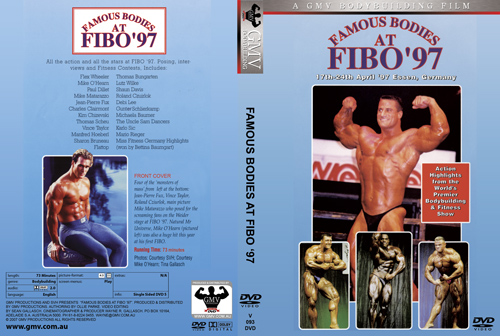 Famous Bodies at FIBO '97 DVD
Enjoy all the action and all of the famous stars on parade at FIBO '97. Posing, interviews and Fitness Contests. Action Highlights from the World's Premier Bodybuilding and Fitness Expo.
Some of the "monsters of mass" included Jean-Pierre Fux, Flex Wheeler, Vince Taylor, Roland Czuirlok, Gunter S and Mike Matarazzo who posed for the screaming fans on the Weider stage.
Mike O'Hearn Natural Mr. Universe was also a huge hit at this his first FIBO.

The DVD includes the following champions:

Flex Wheeler
Vince Taylor
Mike O'Hearn
Paul Dillett
Mike Matarazzo
Jean-Pierre Fux
Charles Clairmonte
Manfred Hoeberl
Lutz Wilke
Gunter Schlierkamp
Carlo Sic
Mario Rieger
Thomas Scheu
Flattop
Thomas Bungarten
Shaun Davis
Roland Czuirlok
Kim Chizevsky
Sharon Bruneau
Debi Lee
Michaela Baumer
The Uncle Sam Dancers
Miss Fitness Germany highlights - won by Bettina Baumgart

Running Time: 75 mins

* Available in NTSC DVD Only (Region Free)
* THIS DVD WILL PLAY ON ANY DUAL SYSTEM NTSC / PAL DVD PLAYER AND TV. Or any PC DVD.