Details: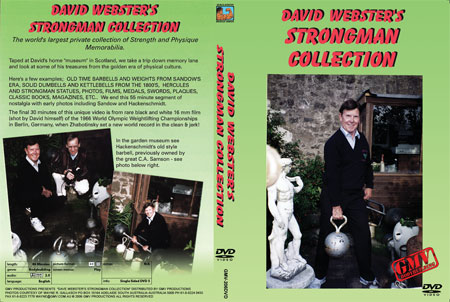 David Webster's Strong Man Collection
The Worlds Largest Collection of Strength and Physique Memorabilia!
Taped at David's home "museum" in Scotland, we take a trip down memory lane and look at some of his treasures from the golden era of physical culture.
Starting inside the house, David takes us on a tour as he explains his priceless possessions, such as rare books, medals, statues, films, plaques, swords, magazines, and hundreds of rare photos. David is a skilled physique sculptor and you will see some of his work.
David's second claim to fame is that he also organises World's Strongest Men Competitions, and Highland Games Strength events. He recently received the O.B.E. for his services to sport.
Just as we thought we had seen it all, David took us through his "garden museum". Items that caught the camera's eye; Old time dumbells and weights from Sandow's era, solid dumbells and kettlebells from the 1800's. Hercules and strongman statues, etc. We end this 55 minute segment of nostalgia with a selection of early photos including Sandow and Hackenschmidt. (The Russian Lion).
The final 30 minutes of this unique video is transferred from rare black and white 16 mm film (shot by David himself) of the 1966 World Olympic Weightlifting Championships in Berlin, Germany set a new world record in the clean and jerk! The film was shot silent, so we have added a music background.

Running Time: 65 mins

* Available in NTSC DVD Only (Region Free)
* THIS DVD WILL PLAY ON ANY DUAL SYSTEM NTSC / PAL DVD PLAYER AND TV. Or any PC DVD.